VRBS ROMA COLLECTION

LINK to Ancient Greek Coins
LINK to Coins Dating from 1453 to 20th Century
(May 29, 1453 - Fall of the Byzantine Empire)
Ancient Roman Coins
1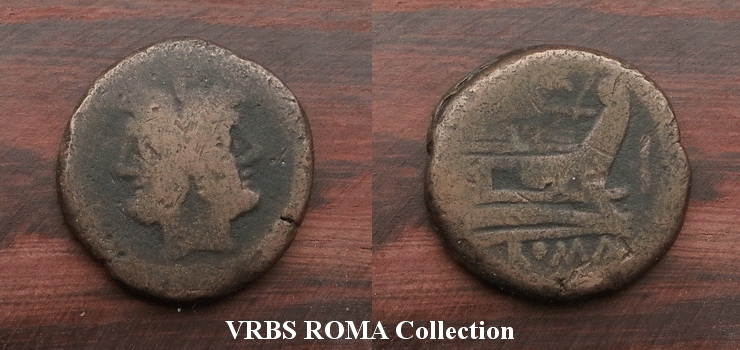 Roman Republican, Anonymous As. 189-180 BC.
Obverse: Laureate head of Janus; I above
Reverse: Prow of galley right; Victory and spearhead above, I before, ROMA below.
Crawford 145/1; Sydenham 293; BMCRR 497; Sear 676
2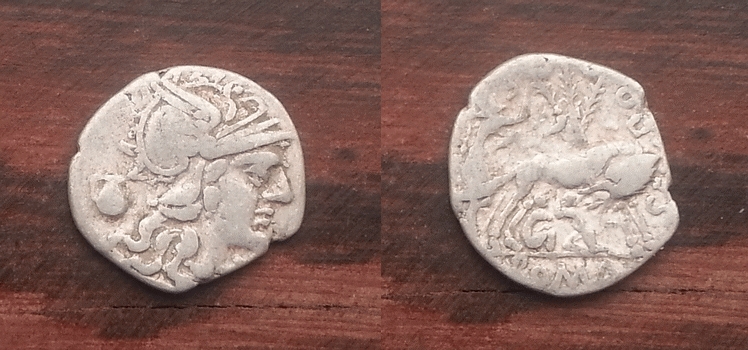 Roman Republic. Sex. Pompeius Fostlus. Silver Denarius, c.133-126 BC. Rome Mint
Obverse: Helmeted head of Roma rt., X below chin and jug behind.
Reverse: SEX. POM. FOSTLVS, wolf rt. suckling the Twins, shepard on lt., birds on fig tree behind,
ROMA in exergue
RSC Pompeia 1
3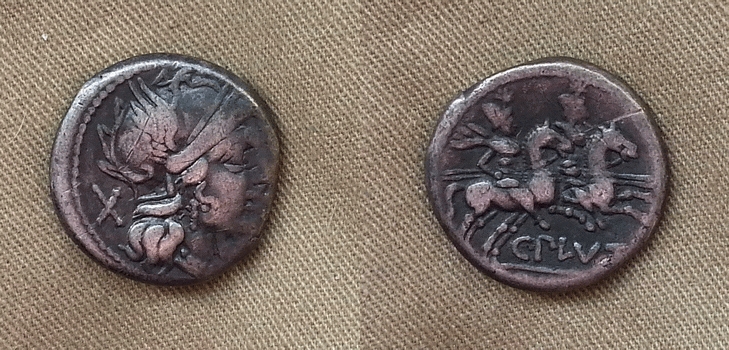 C. Plutius, circa 121 BCE, Roman Republic, silver denarius, 18mm.
Obverse : helmeted head of Roma right, X behind.
Reverse : the dioscuri right, C. PLUTI. below, ROMA in ex. Ref.
Cr. 278/1 ; RSC 1
4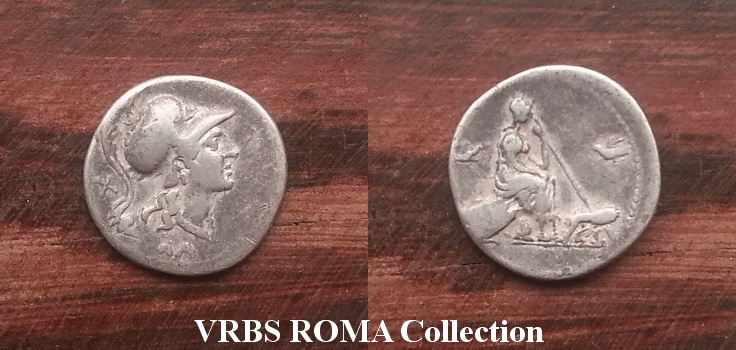 Anonymous. 115/4 BC. AR Denarius Rome mint
Obverse: Head of Roma right, wearing crested and winged Corinthian helmet;
X (mark of value) behind, ROMA below
Reverse: Roma seated right on pile of shields, wearing Corinthian helmet, holding spear;
bird flying right and left on either side, helmet below, she-wolf suckling the twins before.
Crawford 287/1; Sydenham 530; Kestner 2478; BMCRR Italy 562; RSC 176
5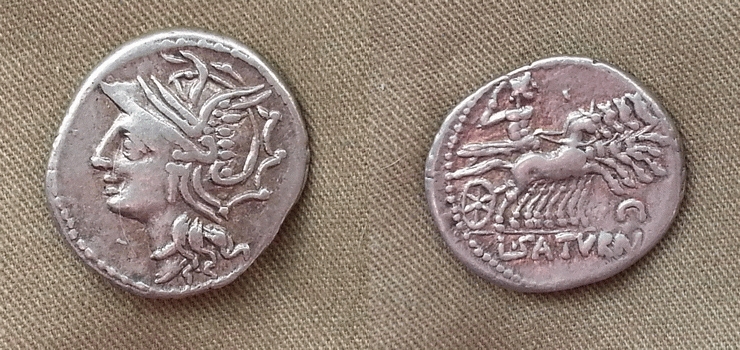 Lucius Appuleius Saturninus Denarius. 104 BC
OBVERSE: Helmeted head of Roma left
REVERSE: L SATVRN, Saturn in quadriga right; letter or dots above
Cr317/3a, Syd 578
6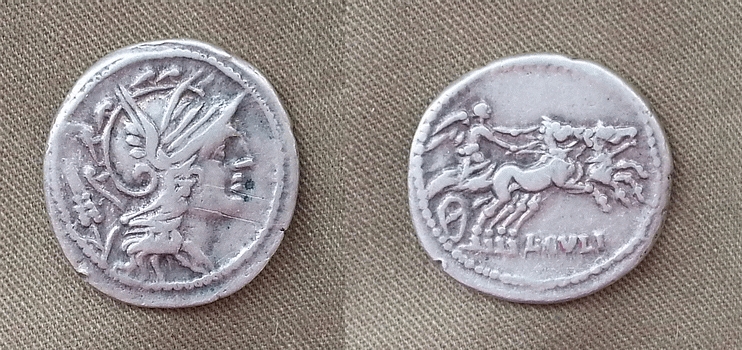 Roman Republic. L. Julius. 101 B.C. AR Denarius
Obverse: Helmeted head of Roma r.; behind, corn-ear
Reverse: Victory in biga r., holding reins; in exergue, L. IVLI
RRC 585. Crawford 323/1
7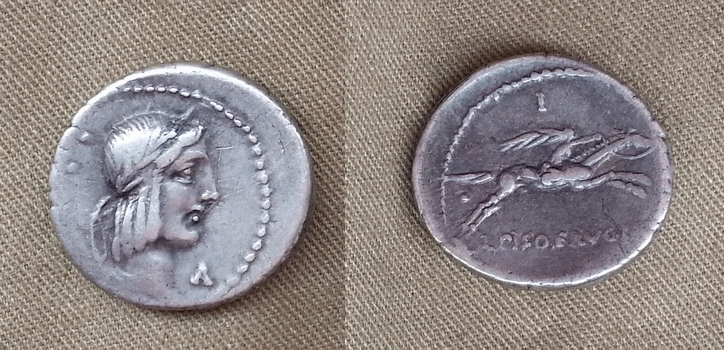 L. Calpurnius Piso Frugi 90 B.C. Denarius Mint: Rome
Obverse: Laureate head of Apollo right; behind, control-mark;
below chin, control-mark. Border of dots.
Reverse: L PISO FRVG[I] R: Horseman right with palm-branch in left hand
and reins in right hand; above, control-mark and control-mark. Border of dots.
Diameter:
Weight:
References: C.340.1, S.665m, RRC 340/1. 1944.100.81386, C.340.1, S.655a
8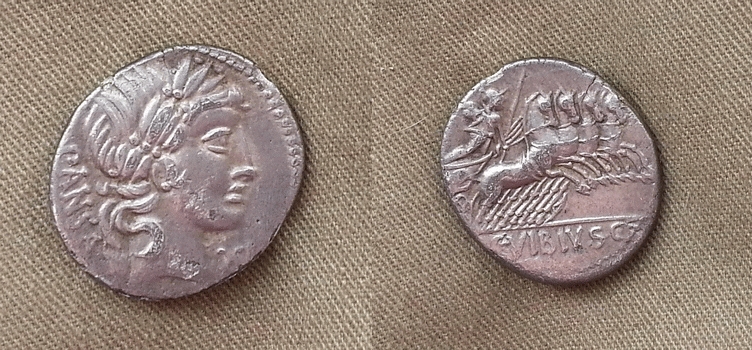 C. Vibius C.f. Pansa. Ca. 90 BC. AR denarius, Roman Republic
OBVERSE: Laureate head of Apollo right, PANSA behind, control letters S: S:. under chin
REVERSE: Minerva in quadriga right, VIBIVS. C. F in exergue.
Cr. 342/5b. Syd. 684b. RSC, Vibia 1d. RCTV 242
9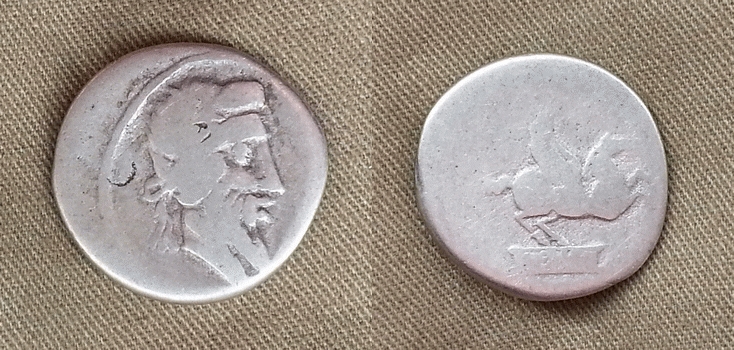 Q Titius Denarius. 90 BC
Obverse: Head of Mutinus Titinus (Priapus) right, wearing winged diadem
Reverse: Pegasus springing right, Q TITI on base
Cr341/1, Syd 691
10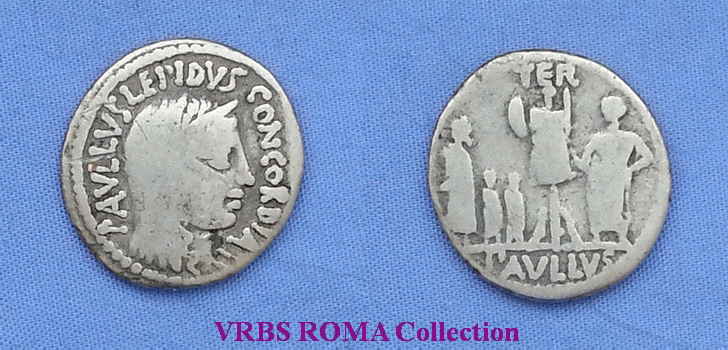 L Aemilius Lepidus Paullus AR Denarius. 62 BC
Obverse: Veiled and diademed head of Concordia right, PAVLLVS LEPIDVS CONCORDIA around
Reverse: ER PAVLVS above and beneath L Aemilius Paullus standing to right of trophy, Perseus
and his two sons captive on the left
Cr415/1, Syd 926
11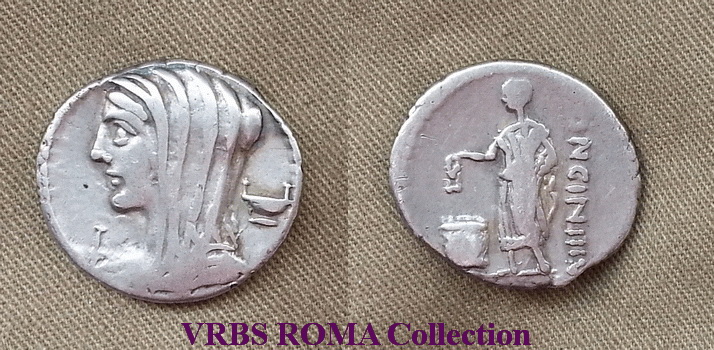 Moneyer L. Cassius Longinus AR denarius 60 BC.
OBVERSE: Veiled and diademed head of Vesta left, kylix (drinking vessel) behind, letter before
REVERSE: LONGIN III V, togate male figure standing left, dropping voting tablet inscribed V (Vota)
into an urn to left.
Cr. 413/1; Sear 364; Cassia 10; Albert 1330; Syd 935
12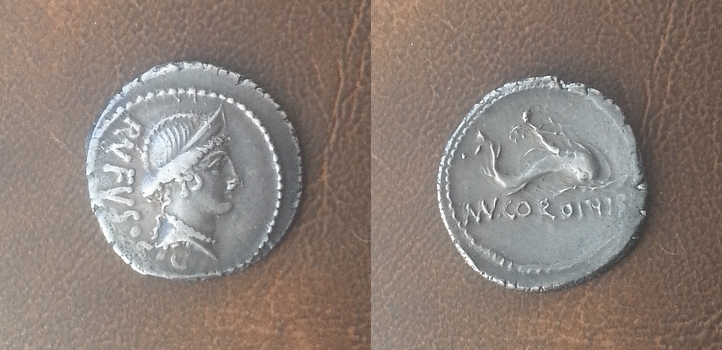 Cordius Rufus. 46 BC. AR Denarius.
OBVERSE: Diademed head of Venus right
REVERSE: Cupid on dolphin right
Crawford 463/3; Sydenham 977; Cordia 3
13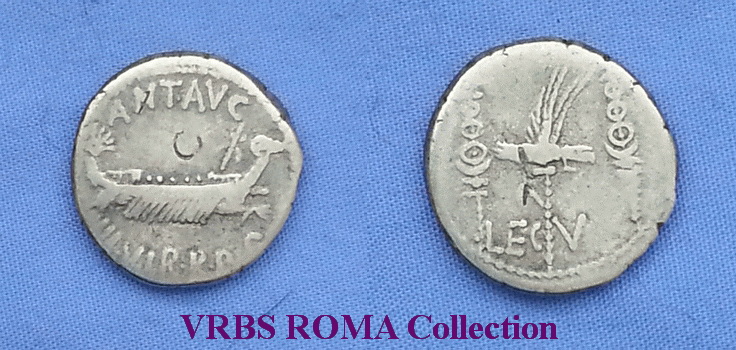 MARK ANTONY. 32 BC. AR Legionary Denarius
Obverse: ANT AVG. III VIR. R. P. C, galley to the right
Reverse: LEG V, aquila and two legionary standards
Crawford 544/18; Sear, CRI 354; Sydenham 1221; BMCRR (East) 196; RSC 32
14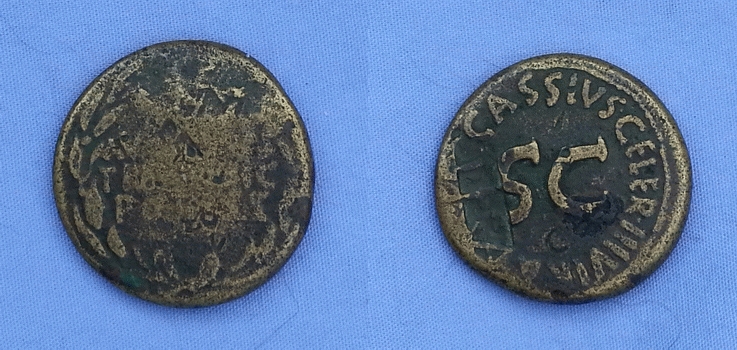 Augustus AE Dupondius. Rome mint.
Struck 16 BC. by C. Cassius Celer, moneyer.
Obverse: AVGVSTVS TRIBVNIC POTEST, three lines in wreath of oak leaves
Reverse: C CASSIVS CELER IIIVIR AAAFF around large SC
RIC 375, Cohen 408, BMC 166
15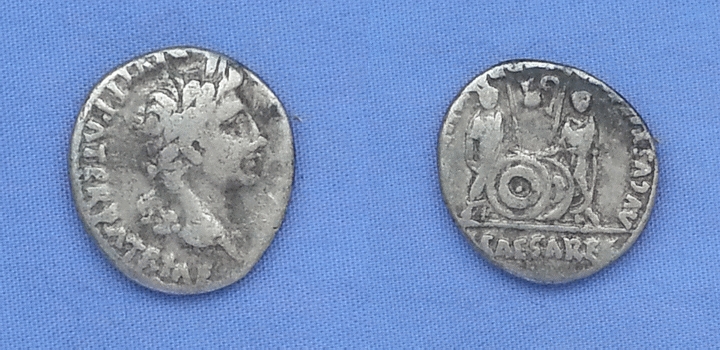 A1 Augustus Denarius. Lyons mint, 2 BC - ca 13 AD
CAESAR AVGVSTVS DIVI F PATER PATRIAE. laureate head right
AVGVSTI F COS DESIG PRINC IVVENT, C L CAESARES below,
Gaius & Lucius standing front, each with a hand resting on a round shield,
a spear, & in field above, a lituus right & simpulum left (in "b9"-like formation)
BMC 533, RSC 43
16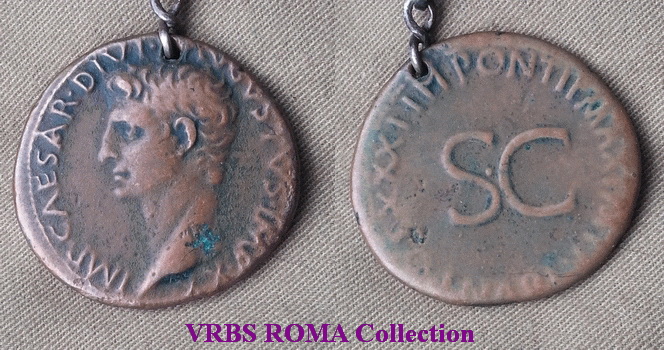 AUGUSTUS. 27 BC-14 AD Æ As Rome mint Struck 11-12 AD
Obv. IMP CAESAR DIVI F AVGVSTVS IMP XX, bare head of Augustus left
Rev: PONTIF MAXIM TRIBVN POT XXXIIII around SC
RIC 471; Sear 1689
17

AUGUSTUS. 27 BC- 14 AD As M. Maecilius Tullus, moneyer in 7 BC
CAESAR AVGVST PONT MAX TRIBVNIC POT, bare head right
M MAECILIVS TVLLVS IIIVIR A A A F F around large
SC. RIC I 435; BMCRE 221
18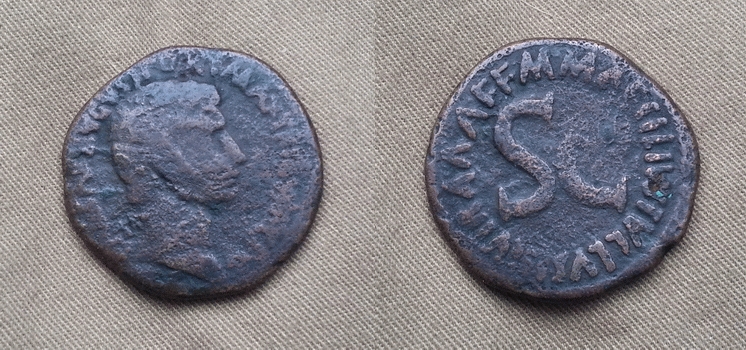 AUGUSTUS. 27 BC- 14 AD. Æ As
M. Maecilius Tullus, moneyer in 7 BC
Obverse: CAESAR AVGVST PONT MAX TRIBVNIC POT, bare head right
Reverse: M MAECILIVS TVLLVS IIIVIR A A A FF around large SC
RIC I 435; BMCRE 221
19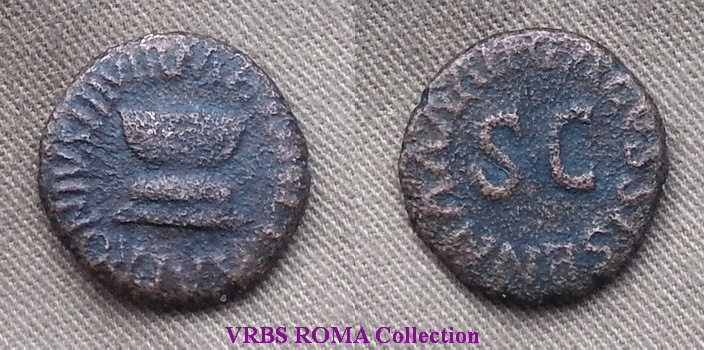 A2 Augustus AE Quadrans. Struck 5 BC
Moneyers Apronius, Galus, Messalla, and Sisena.
APRONIVS MESSALLA III VIR, altar
GALVS SISENNA A A A F F, legend around large S C
Cohen 352
20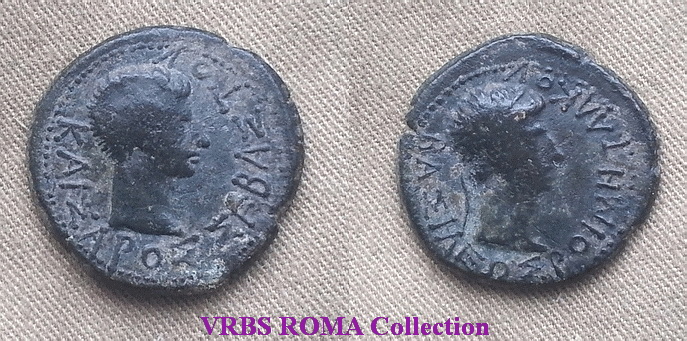 Augustus and Rhoemetalkes I, 11 B.C.-12 A.D. AE (RARE TYPE)
Obverse: Bare bust of Augustus. Legend in Greek
Reverse: Bust of Rhoemetalkes I. Legend in Greek
Rhoemetalkes I is the only non-roman to appear on a coin with Augustus.
21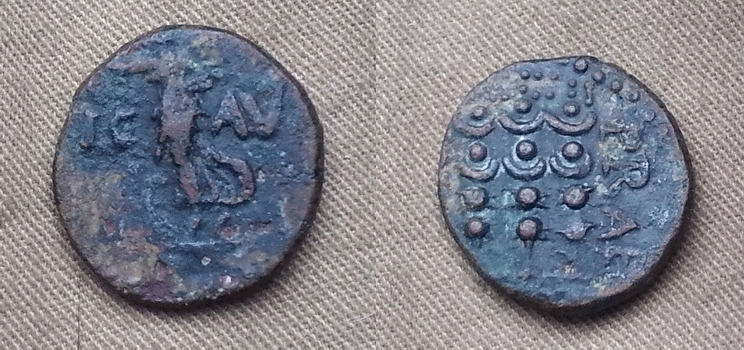 Macedon, Philippi. Time of Augustus. Circa 31 BC-14 AD
Obverse: VIC AVG, Nike standing left on globe, holding wreath and palm
Reverse: COHOR PRAE PHIL, three
military standards
RPC I 1651; SNG ANS 677; SNG Copenhagen 305
22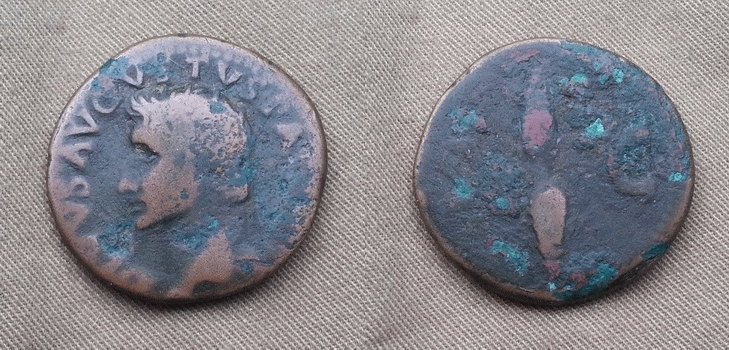 Divus Augustus AE As. Struck 34-37 AD by Tiberius
Obverse: DIVVS AVGVSTVS PATER, radiate head left
Reverse: S-C, winged thunderbolt. RIC 83 (Tiberius)
Cohen 249
23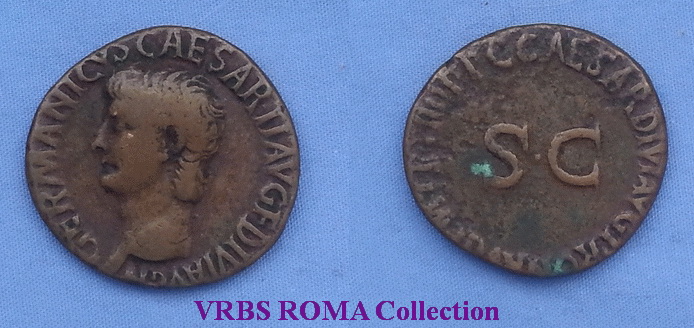 Germanicus Æ As.
Obverse: GERMANICVS CAESAR TI AVG F DIVI AVG N, bare head left
Reverse: C CAESAR DIVI AVG PRON AVG P M TR P IIII P P around large SC
BMC. 74 Cohen 4
Struck under Caligula, 39-40 AD.
24

Agrippa, Æ As. Agrippa. Struck under Caligula, 37-41 AD
Obverse: M AGRIPPA L F COS III, head left wearing rostral crown
Reverse: S-C, Neptune standing facing, head left, naked except for cloak draped
behind him & over both arms, holding small dolphin in right hand & vertical trident in left
RIC 58 [Caligula], Cohen 3, BMC 161
25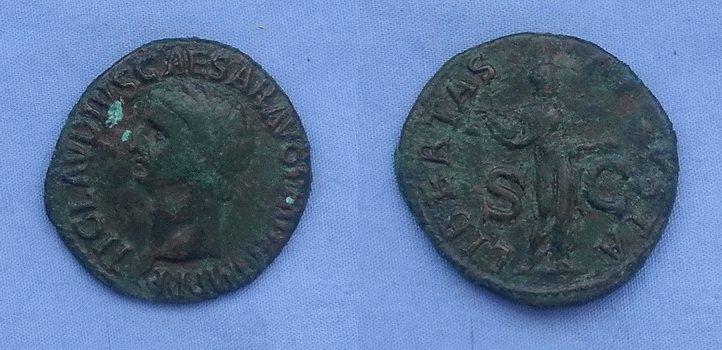 Claudius Æ As Struck 42-43 AD
Obverse: TI CLAVDIVS CAESAR AVG P M TR P IMP, bare head left
Reverse: LIBERTAS AVGVSTA S-C, Libertas standing facing, with pileus and extending left hand
RIC 97, Cohen 47, BMC 145
26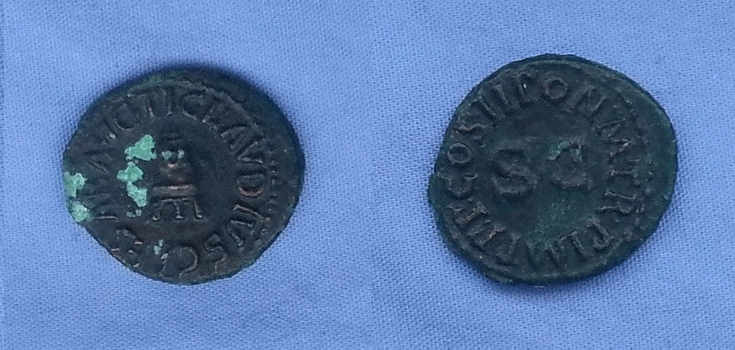 Claudius AE Quadrans. Struck A.D. 42
Obverse: TI CLAVDIVS CAESAR AVG around three-legged modius
Reverse: PON M TR P IMP P P COS II around S.C.
BMC 182
27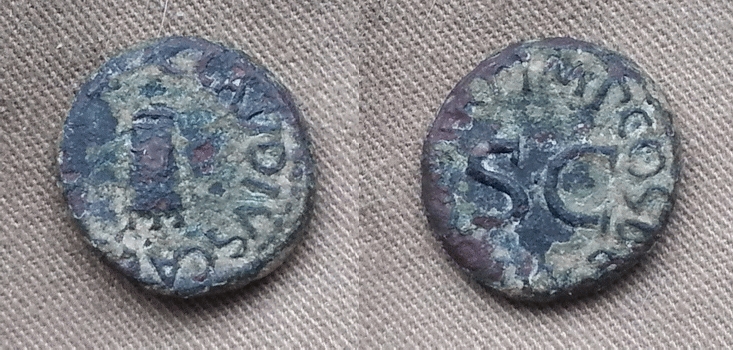 Claudius AE Quadrans. Struck A.D. 42
Obverse: TI CLAVDIVS CAESAR AVG around three-legged modius
Reverse: PON M TR P IMP P P COS II around S.C.
BMC 182
28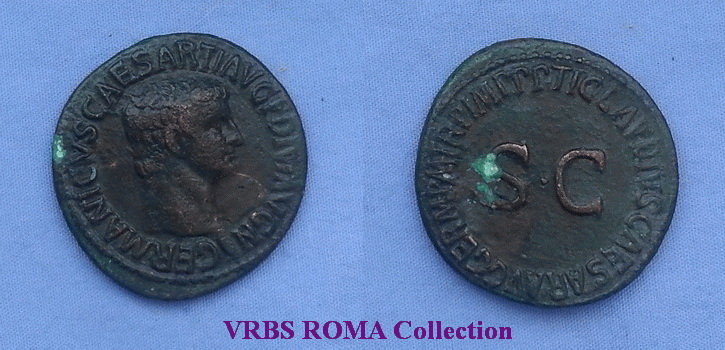 Germanicus, As
Obverse: GERMANICVS CAESAR TI AVG F DIVI AVG N, bare head of Germanicus, facing right
Reverse: TI CLAVDIVS CAESAR AVG GERM P M TR P IMP P P, around a large S C
RCV 1905, RIC 106
Issued 42 A.D., by Claudius, in honor of his deceased brother.
29

Nero Claudius Drusus AE Sestertius
Obverse: NERO CLAVDIVS DRVSVS GERMANICVS IMP, bare head left
Reverse: TI CLAVDIVS CAESAR AVG P M TR P IMP, Claudius, togate,
seated left on curule chair, holding branch; arms lying around; SC in exergue.
RIC I 93 (Claudius); Cohen 8.
Nero Claudius Drusus died in 9 BC, was the brother of Tiberius, and the father of Claudius.
This coin was struck by Claudius during 41-42 AD.
30

Nero. A.D. 54-68. AE As. Rome Mint A.D. 65.
Obverse: NERO CAESAR AVG. GERM. IMP. Nero, laureate, r.
Reverse: PACE P. R.VBIQ. PARTA. IANVM CLVSIT. S - C to l. and r.
of view of the front of temple of Janus, with latticed window to r.
and garland hung across closed double doors to l
RIC 168, 309. WCN 289. BMC 232
31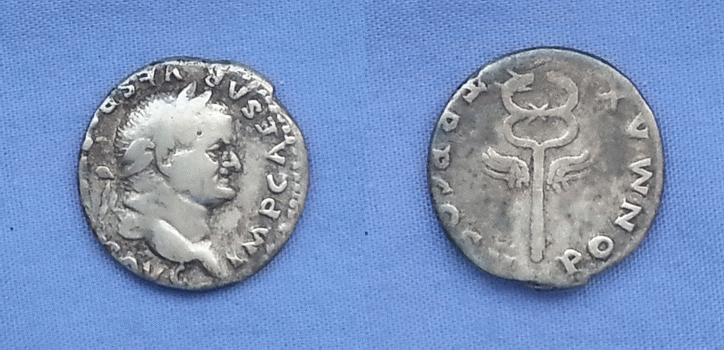 Vespasian Denarius 69-79 AD. Denarius
IMP CAESAR VESPASIANVS AVG, laureate head right
PON MAX TR P COS V, Winged caduceus.
RSC 362
32

Domitian Denarius
Obverse: CAESAR AVG F DOMITIANVS, laureate head right
Reverse: COS V, She-wolf and twins left, boat below
RSC 51
33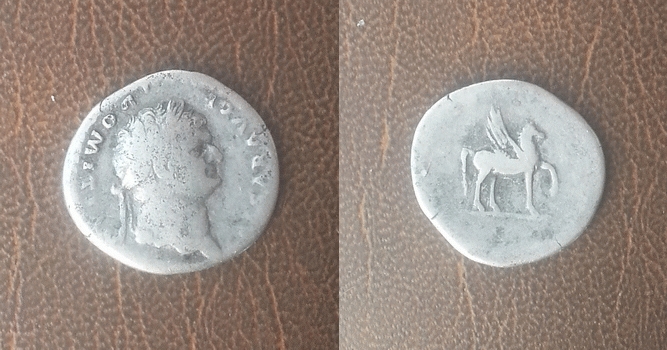 Domitian Denarius. 76 AD
Obverse: CAESAR AVG F DOMITIANVS, laureate head right
Reverse: COS IIII, winged Pegasus standing right with raising left foreleg
BMC 193, RSC 47
34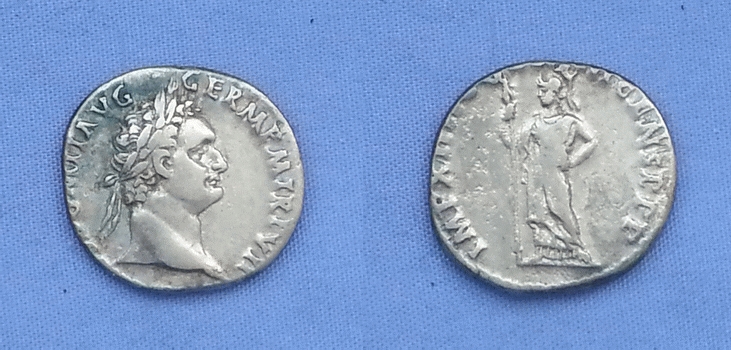 Domitian. AR denarius. AD 87
Obverse: IMP CAES DOMIT AVG GERM PM TR P VII, laureate head left.
Reverse: IMP XIIII COS XIII CENS P PP, Minerva standing left, holding spear.
RIC 521; RSC 222; BMC 114
35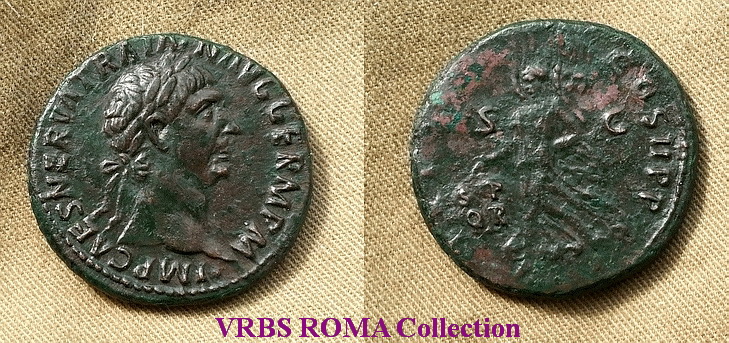 Trajan AE As, Rome
Struck AD 98-99.
Obverse: IMP CAES NERVA TRAIAN AVG GERM P M, laureate head right
Reverse: TR POT COS II P P, Victory walking left, holding
palm-branch and shield inscribed SPQR.
RIC 402; Cohen 617; Sear 3242 var
36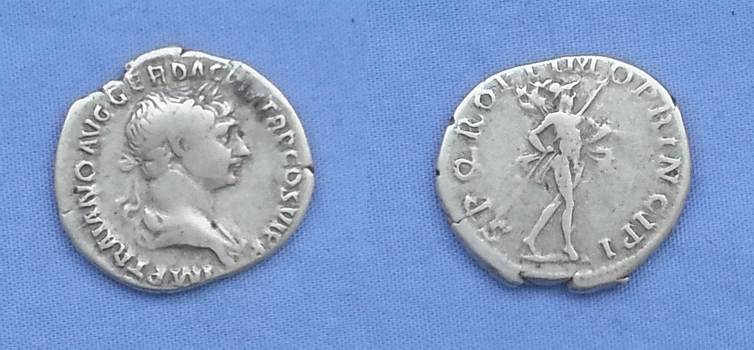 Trajan AD 98-117 Denarius, Rome mint: AD 103-104
Obverse: IMP TRAIANO AVG GER DAC P M TR P COS V P P- Laureate bust right, draped
Reverse: SPQR OPTIMO PRINCIPI - Mars advancing right, holding spear and trophy
RIC II, 157, page 255 - Gn., Riv. It. 1907 pg. 174
37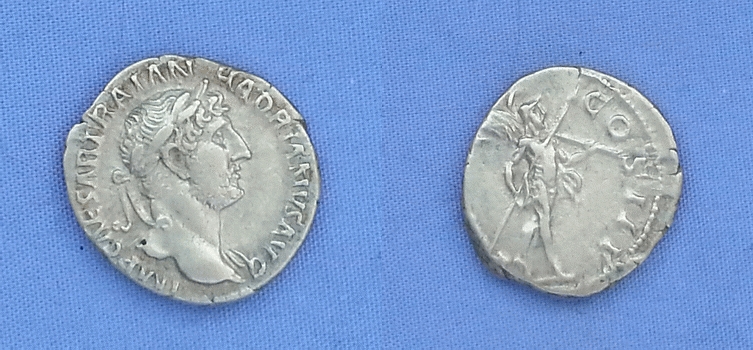 Hadrian Denarius, Issued 120 AD
Obverse: IMP CAESAR TRAIAN HADRIANVS AVG, laureate bust right, far shoulder draped
Reverse: P M TR P COS III, Mars advancing right with spear & trophy
RSC 1073
38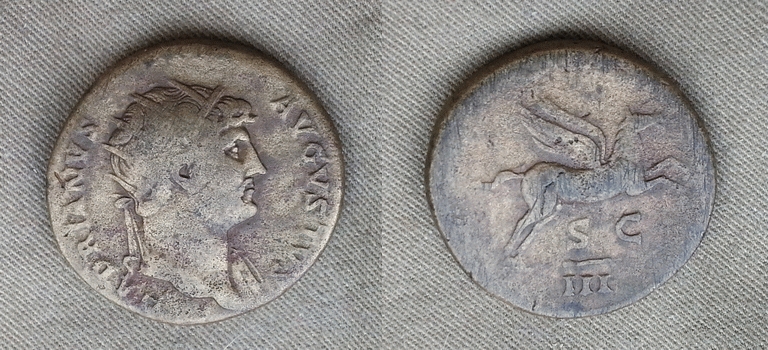 Hadrian. 117-138 AD. AE Dupondius. Struck 125-128 AD
Obverse: HADRIANVS AVGVSTVS, radiate head right, slight drapery
Reverse: COS above, III in exergue, S C below, pegasus springing or flying right
RIC II 658; BMCRE 1330; Cohen 436. (Scarce)
39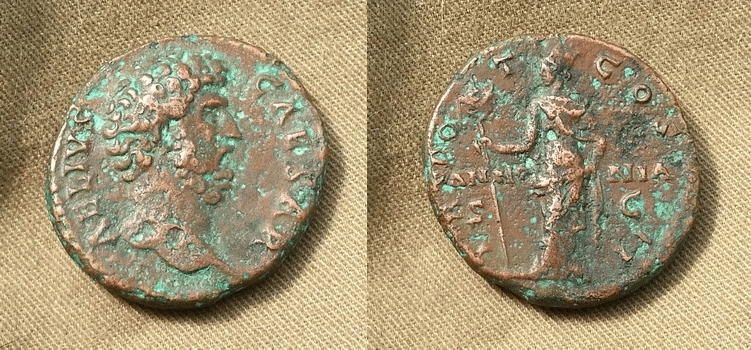 Aelius (Caesar AD 136-138). Copper as Rome, AD 137
Obverse: L AELIVS CAESAR, bare head right
Reverse: PANNO-NIA S-C across field, TR POT COS II, Pannonia standing right,
head left, holding vexillum in right hand and pulling swath of drapery across legs with left hand
BMCRE 1936. Cohen 25. RIC 1071
40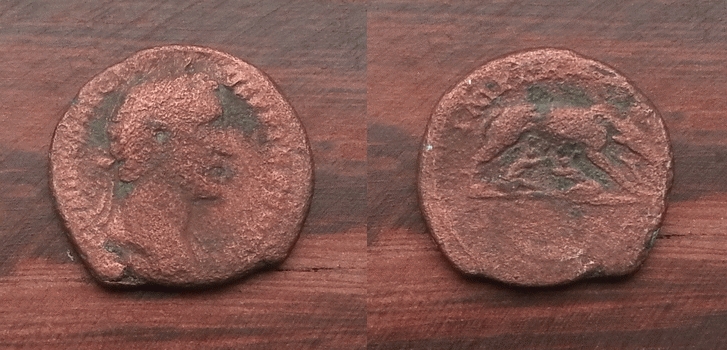 Antoninus Pius AE As. 143-144 AD
Obverse: ANTONINVS AVG PIVS PP TR P COS III, laureate head right
Reverse: IMPERATOR II, wolf standing right, head not turned back,
suckling twins, SC and boat in exergue
Cohen 448
41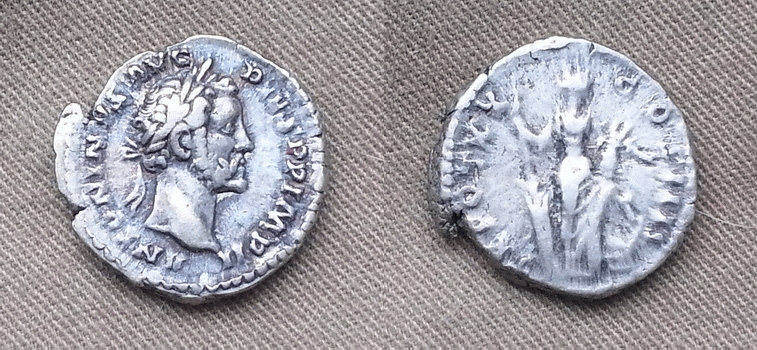 Antoninus Pius, 138-161 AD Denarius
Obverse : ANTONINUS AUG. PIUS P.P. IMP. II. - Laureate head right
Reverse : TR. POT. XXI. COS. IIII. - Anonna stg. right holding corn ears in modius
with left hand, right hand holding rudder, left foot set on prow
RIC 275.2
42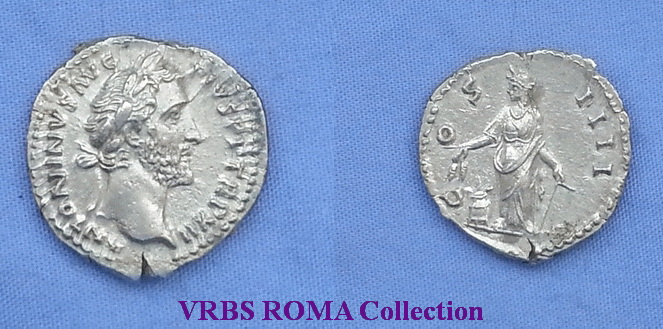 Antoninus Pius, Denarius, AD 147-148
Obverse: ANTONINVS AVG PIVS PP TR P XI, laureate head right
Reverse: COS IIII, Annona or Abundantia, draped, standing left,
holding two corn-ears over modius, and anchor on ground
BMCRE IV 621; C. 283; RIC III 162
43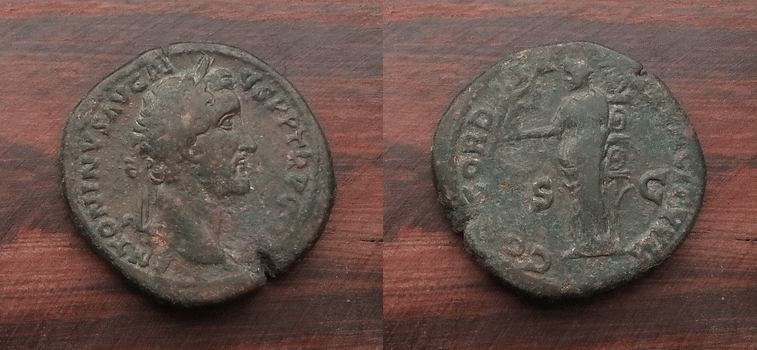 Antoninus Pius AE Dupondius
Obverse: ANTONINVS AVG PIVS PP TR P COS III, radiate heaed right
Reverse: CONCORDIA EXERCITVVM S-C, Concordia standing left with
Victory and standard with vaxillum
Cohen 142
44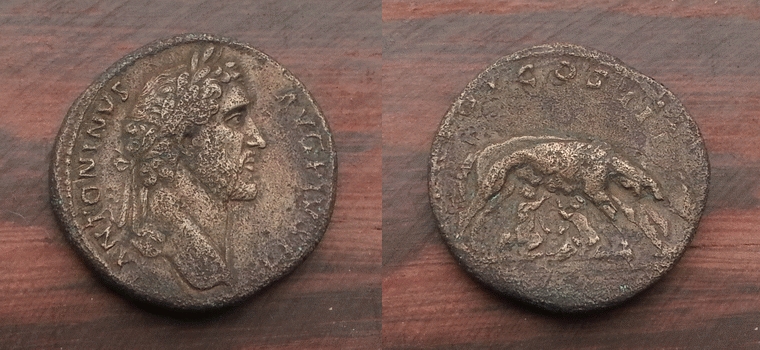 Antoninus Pius AE Sestertius
Obverse: ANTONINVS AVG PIVS P P, laureate head right
Reverse: R POT COS III, she-wolf standing right, suckling twins, SC in exergue
Cohen 917
45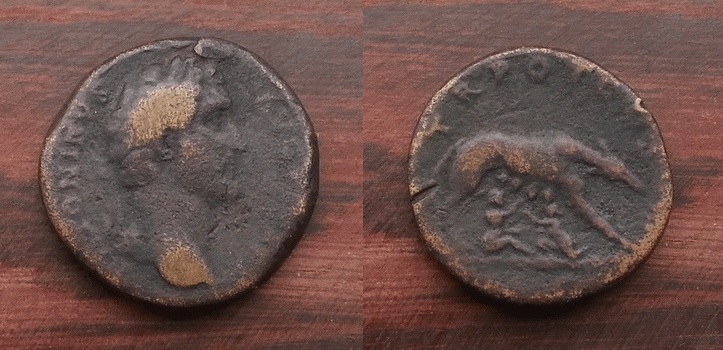 Antoninus Pius AE Sestertius
Obverse: ANTONINVS AVG PIVS P P, laureate head right
Reverse: TR POT COS III, she-wolf standing right, suckling twins, SC in exergue
Cohen 917
46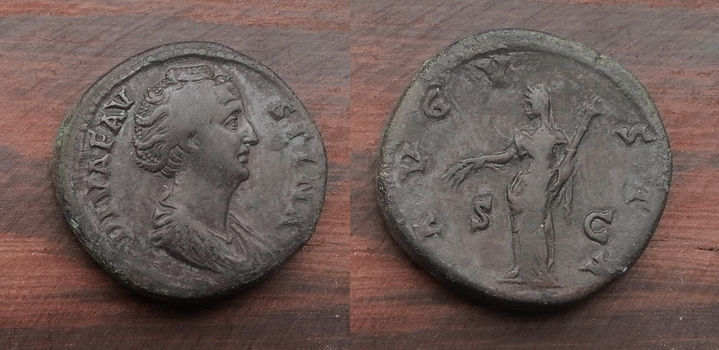 Faustina I Sestertius, posthumous issue, struck after 141 AD, Rome.
OBVERSE: DIVA FAVSTINA, draped bust right.
REVERSE: AVGVSTA around, S-C across fields, Ceres standing left,
holding corn-ears downwards in right hand and short torch in left.
RIC 1117; BMC 1512-1513; Sear
47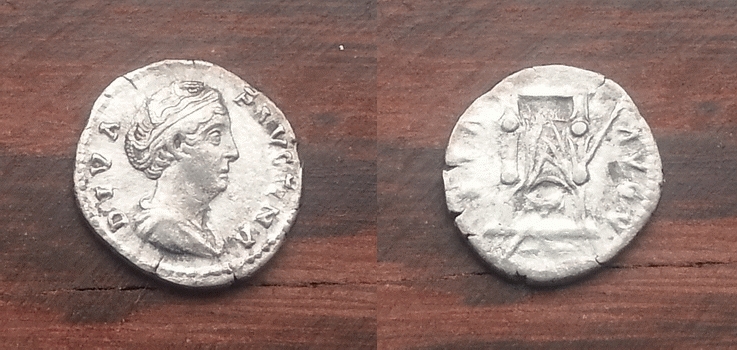 Faustina Senior Denarius
Obverse: DIVA FAVSTINA, draped bust right
Reverse: AVGVSTA, scepter resting against throne of Juno
RIC 377, RSC 131, BMC 454
48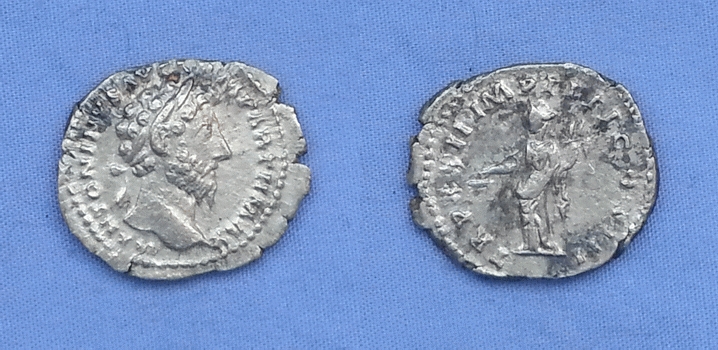 Marcus Aurelius Den "Equity"
Marcus Aurelius AD 139-180 Silver Denarius
Obverse: M ANTONINVS AVG PM PARTH MAX - Laureate head right
Reverse: TR P XXII IMP IIII COS III - Equity standing left, holding scales and cornucopia
Rome mint: Dec 167 - Feb 168
RIC III, 178, page 227 - Cohen 892
49

MARCUS AURELIUS 161-180 AD, As Struck 179/180 AD
Obverse: M AVREL ANTONINVS AVG, laureate head right
Reverse: TR P XXXIIII IMP X [COS III], S C in exergue, wolf and twins in cave
RIC III 1247; Cohen 976
50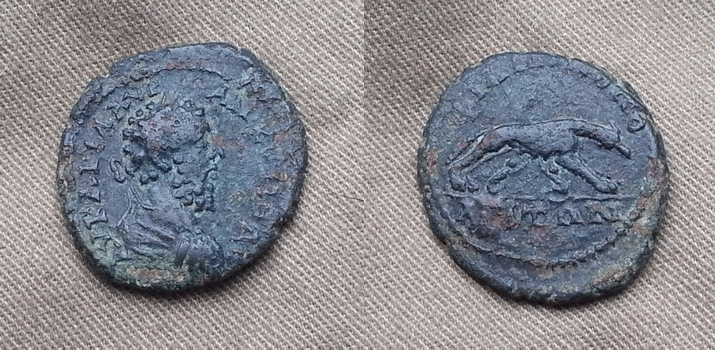 Commmodus AE21 of Nikopolis ad Istrum
Obverse: Laureate head right
Reverse: NIKOPOLEITWN, she-wolf right suckling Romulus and Remus
Moushmov 886, Rare
51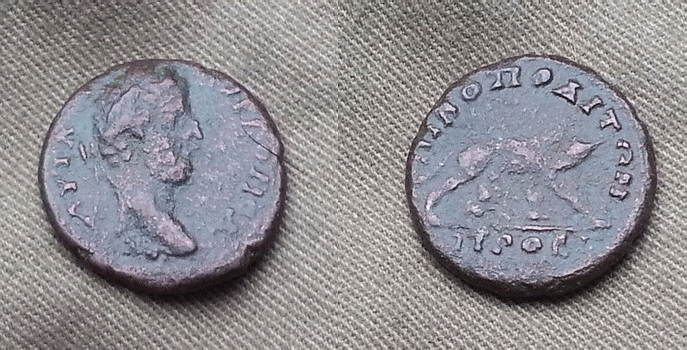 Commodus, AE 15mm of Nicopolis ad Istrum,
Moesia Inf. circa 177-192 A.D.
Obverse: AVT KAI M AVPH KOMO?OC, Laureate head right.
Reverse: NIKOPOLI PROC ICTRO, She wolf standing right, suckling Romulus and Remus.
Varbanov 2205; Moushmov 886
52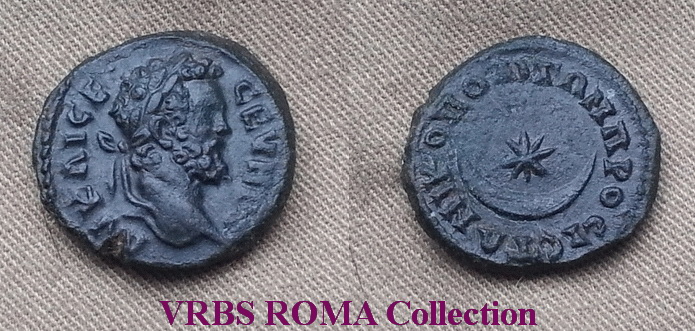 Septimius Severus, AE18, Nikopolis ad Istrum.
AV KAI CE CEVHRO, laureate head right.
NIKOPOLI PROC ICTR, Crescent and one star.
Varbanov 2335
Note: Varbanov lists 17 different entries for the
crescent and one star types, depending on obverse
and reverse legends, and size.
53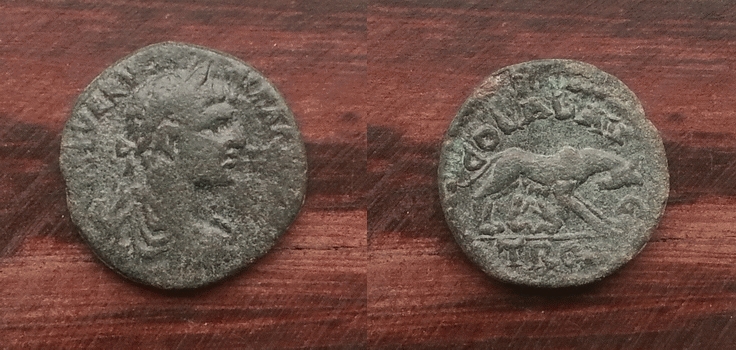 Septimius Severus AE23 of Alexandria Troas
Obverse: SEVERVS PIVS AVG, laureate draped bust right
Reverse: COL AVG TROA, she wolf and twins right
54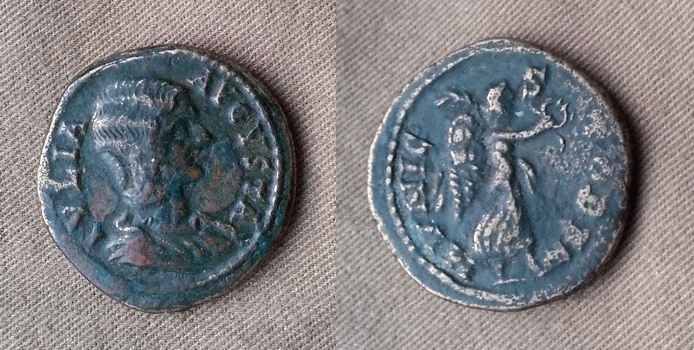 Julia Domna, AE24 of Stobi, Macedonia.
IVLIA AVGVSTA, draped bust right.
MVNICI STOBENS, Nike advancing right, holding wreath and palm.
(I couldn't find a listing, but it is very similar to the 'stoben' Varbanov 3922 and Josifovski 202.)
55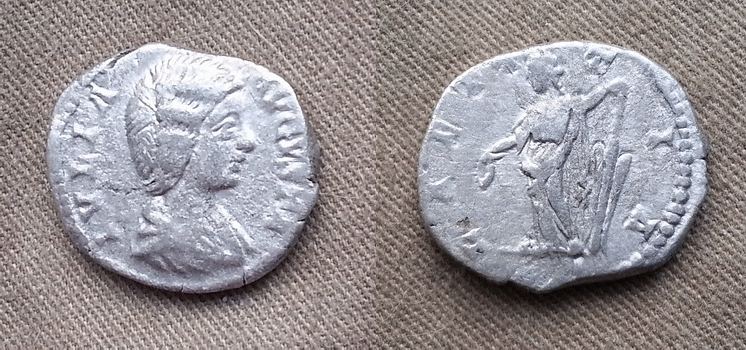 Julia Domna Denarius Rome mint: AD 196-211
IVLIA AVGVSTA Draped bust right, hair in bun behind
LAETITIA, Laetitia standing, head left, holding patera and rudder
RIC 561, RSC 101.
56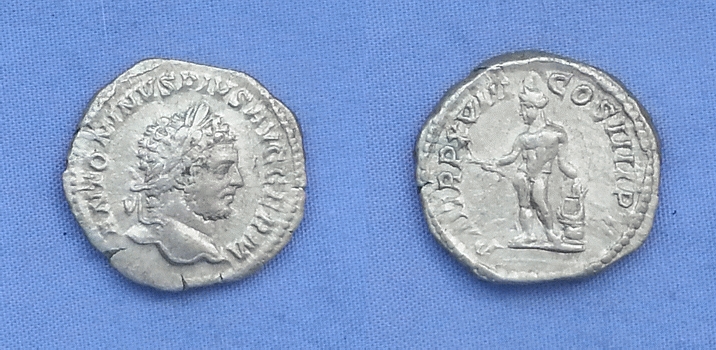 Caracalla Denarius. 215 AD
Obverse: ANTONINVS PIVS AVG GERM, laureate head right
Reverse: P M TR P XVIII COS IIII P P, Apollo, naked, standing facing,
holding branch & resting hand on lyre set on altar
RSC 282
57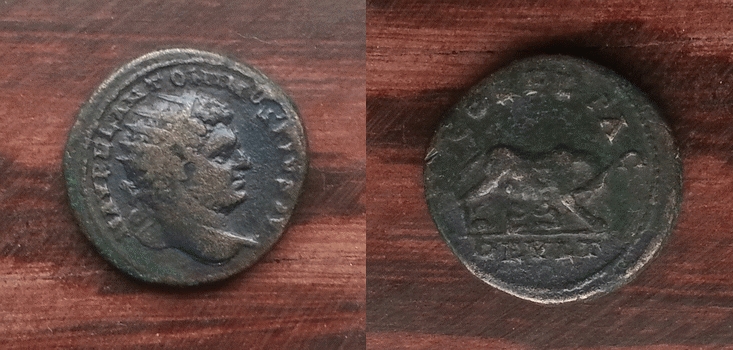 Caracalla, AE23 of Deultum, Thrace.
Obverse: M AVREL ABTONINVS PIVS AV, radiate head right.
Reverse: COL FL PAC wolf and twins, DEVLT in exergue
(I could not a reference ID for this coin, but I did find an extremely worn coin
for sale at LINK. The seller was also not able to find a reference ID, but did
mention similar reverse with obverse of Julia Mamaea and Tranquillina.)
58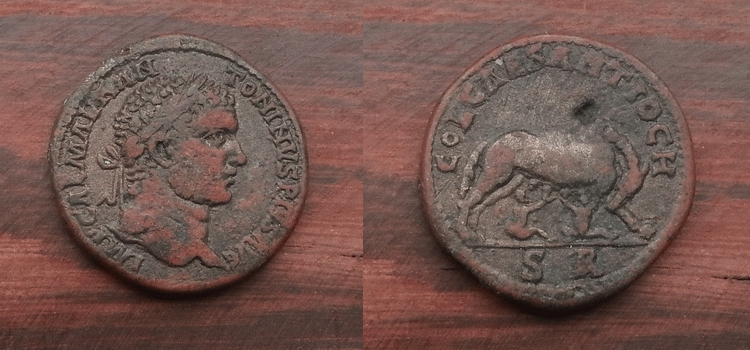 Caracalla AE 32mm of Pisidia, Antioch
Struck 212-217 AD
Obverse: IMP CAE M AVR ANTONINVS PIVS AVG, laureate head right
Reverse: COL CAES ANTIOCH, SR in ex, she-wolf suckling the twins Romulus and Remus
SNG vA 4939
59

Macrinus AE 28mm of Laodikeia in Syria
Obverse: IMP C M OP SEVE MACRINO, laureate head right
Reverse: ROMAE FEL, she-wolf suckling the twins Romulus and Remus
BMC 97
60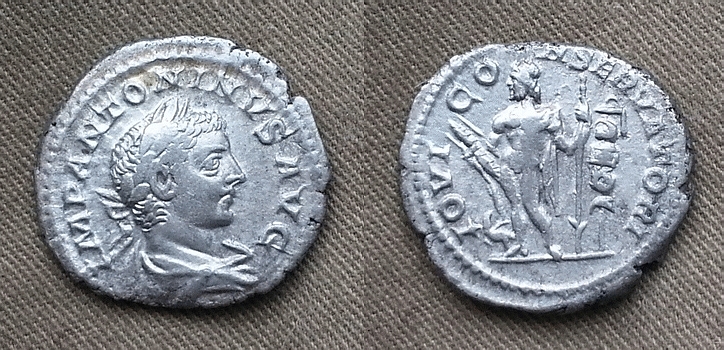 Elagabalus AD 218-222 Silver Antoninianus
Rome mint AD 221
Obv: IMP ANTONINVS AVG - Radiate bust right, draped
Rev: IOVI CONSERVATORI - Jupiter standing left, holding
thunderbolt and reversed spear, at his feet to the left, an eagle,
and behind him on the right, one Legionary standard
RIC IVii, 91b, page 34 - Cohen 68
61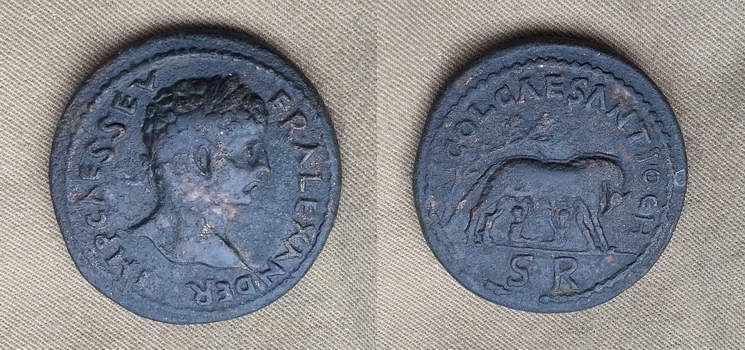 19A Severus Alexander AE32 of Pisidia, Antioch
Obverse: IMP CAES SEVER ALEXANDER, laureate head right
Reverse: COL CAES ANTIOCH, she-wolf and twins right, SR in exergue
Lindgren 1222, BMC 64
(I purchased this coin from Harlan J. Berk, Ltd.)
62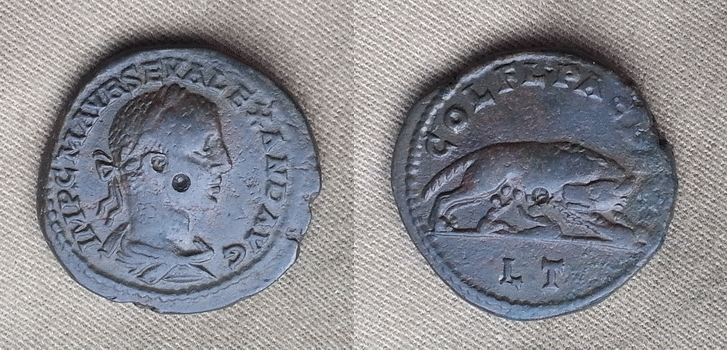 19B Severus Alexander, AE24 of Deultum, Thrace
Obverse: IMP C M AVR SEV ALEXAND AVG, laureate, draped, cuirassed bust right
Reverse: COL FL PAC DEVLT, she-wolf standing right,
head turned back, suckling the twins Romulus and Remus
Varbanov 2325 (this coin); Jurukova 132
63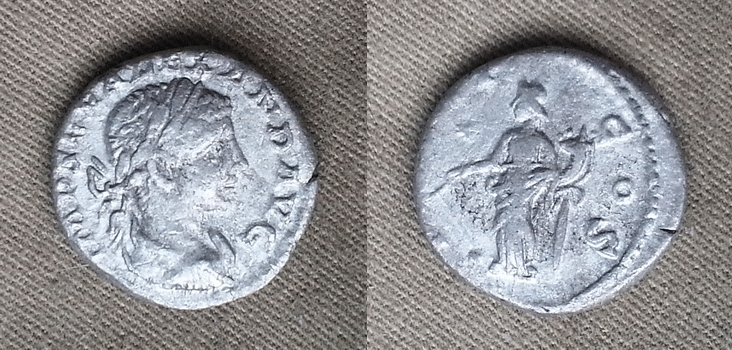 Severus Alexander AD 222-235 Silver Denarius
Obverse: IMP SEV ALEXAND AVG - Laureate bust right, draped
Reverse: P M TR P COS - Fortuna standing left, holding rudder on
a globe and cornucopia, in left field, a star
Antioch mint: AD 222 = RIC IVii, 263, page 90 - Cohen 201/2
64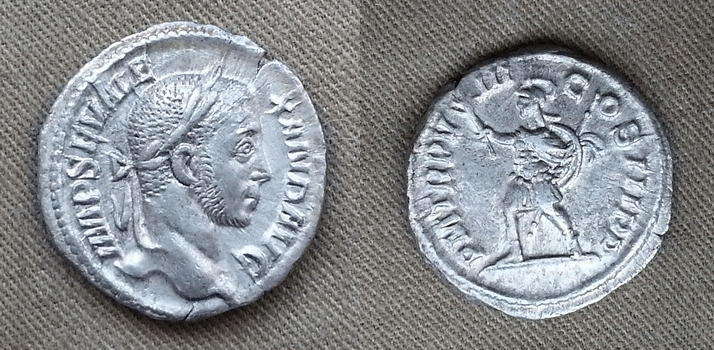 Severus Alexander Denarius. 229 AD.
Obverse: IMP SEV ALEXAND AVG, laureate head right
Reverse: P M TR P VIII COS III P P, Mars advancing left, holding branch, spear and shield.
RIC 92, RSC 365, BMC 603, Sear 7907
65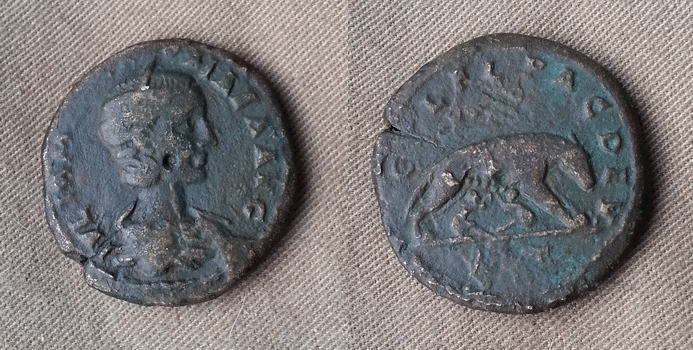 Julia Mamaea, AE 25 of Deultum, Thrace.
Obverse: IVLIA MAMAEA AVG, draped bust right, wearing stephane.
Reverse: COL FL PAC DEVLT, she-wolf standing right, head turned
back, suckling the twins Romulus and Remus
Moushmov 3615; Varbanov 2378; Jurukova 174
66

Maximinus I "Thrax" Mar AD 235-Apr AD 238 Silver Denarius
Rome mint: Mar AD 235 to Jan AD 236
Obv: IMP MAXIMINVS PIVS AVG - Laureate bust right, draped
Rev: VICTORIA AVG - Victory advancing right, holding wreath and palm.
RIC IVii, 16D, page 141 - Cohen 99
67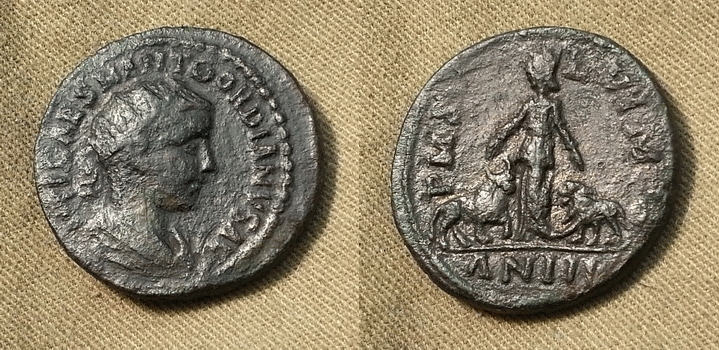 Gordian III AE 24mm of Viminacium. Year 3 = 241/242 or 243
Obverse: AD. IMP CAES M ANT GORDIANVS AVG, radiate draped bust right
Reverse: PMS COL VIM, Moesia standing between bull and lion; AN III in exegue
AMNG 80, Moushmov 32
(Variation of AMNG 80s)
68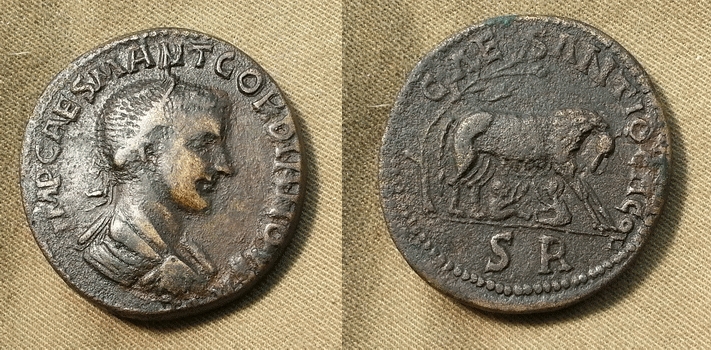 Gordian III AE 32mm of Pisidia, Antioch. 240-244 AD.
IMP CAES M ANT GORDIANVS AVG, laureate head right
CAES ANTIOCH COL, S R around and beneath she-wolf right, suckling twins,
fig-tree behind.
SNG France 3 1198-1201; SNG von Aulock 4952; Krzy. GOR10.49 SNG Cop 69v
(Variation of Referenced IDs)
69

Philip I. 244-249 AD. SYRIA, Commagene. Samosata. Æ 33mm
Obverse: Laureate, draped and cuirassed bust right, seen from behind
Reverse: Tyche seated left on rocks, holding grain-ears in her right hand,
eagle sitting on her right arm, left hand resting on rock, Pegasus flying left below her
BMC Galatia etc. pg. 121, 44
70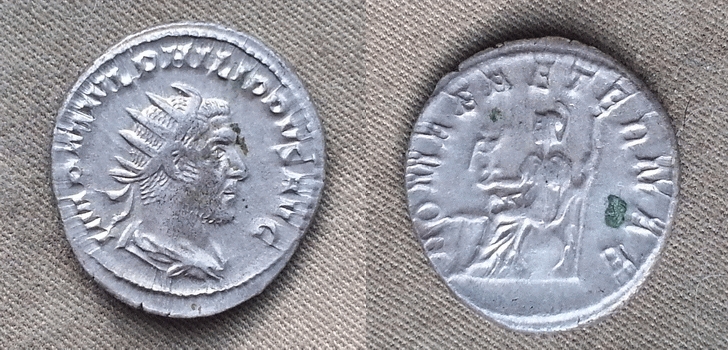 Philip I - 244-249 Silver Antoninianus
Obv: IMP M IVL PHILIPPVS AVG - Radiate bust right, draped and cuirassed
Rev: ROMAE AETERNAE - Roma sitting left, holding Victory and scepter
Rome mint: AD 247 (5th Issue - 6th Officina)
One of below, but without books; can't say exactly:
(RIC IViii, 44b, page 73, Cohen 169,
RSC 165, RSC 170 RSC 169, RIC 45 RIC 106a)
71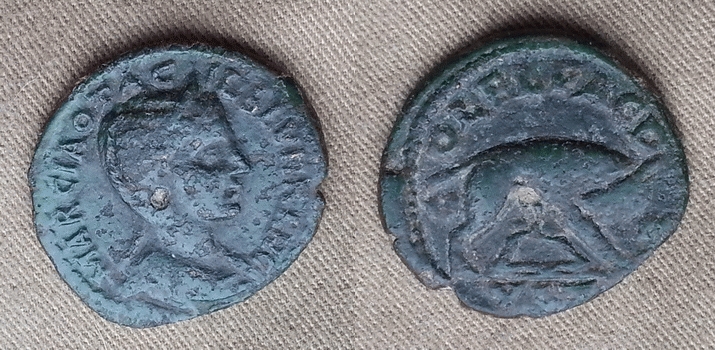 Otacilia Severa, - 244-249 AE of Deultum, Thrace.
Obverse: MARCIA OTACIL SEVHRA AVG, draped bust right, wearing stephane.
Reverse: COL FL PAC DEVLT, she-wolf standing right, head turned back,
suckling the twins Romulus and Remus.
BMC 28; Jurukova 519; Hunter I, 10
72

Philip I Ant AD 244-249Antoninianus
Rome mint: AD 248 (9th Issue, 2nd Officina)
Obv: IMP PHILIPPVS AVG - Radiate bust right, draped and cuirassed
Rev: SAECVLARES AVGG - She-wolf standing left, suckling the twins. exergue: II
RIC IViii, 15, page 70 - Cohen 178
73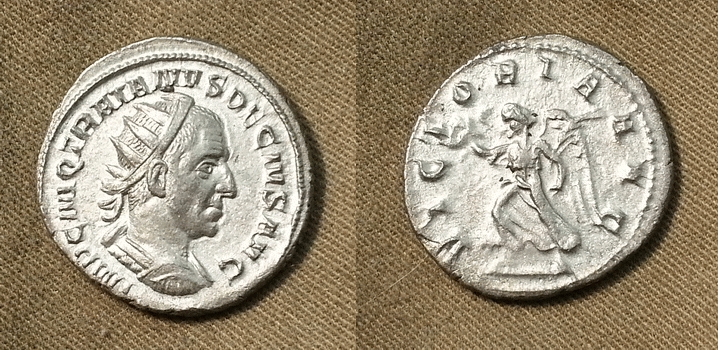 Trajan Decius Ant AD 249-251 Silver Denarius
Obv: IMP C M Q TRAIANVS DECIVS AVG - Radiate bust right, draped and cuirassed
Rev: VICTORIA AVG - Victory advancing left, holding wreath and palm
Rome mint: AD 250 (2nd and 3rd Issue, 5th Officina)
RIC IViii, 29c, page 123
74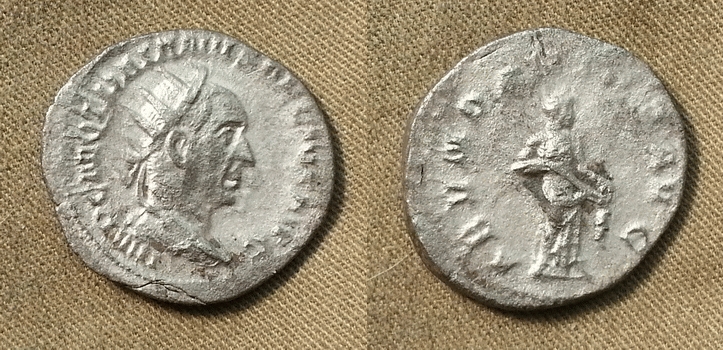 Trajan Decius AR Antoninianus. July-Dec, 250 AD.
Obv: IMP C M Q TRAIANVS DECIVS AVG, radiate, draped and cuirassed bust right
Rev: ABVNDANTIA AVG, Abundantia standing right pouring forth
the contents of a cornucopiae.
RIC IV 10b; Sear (5) 9364; Cohen
75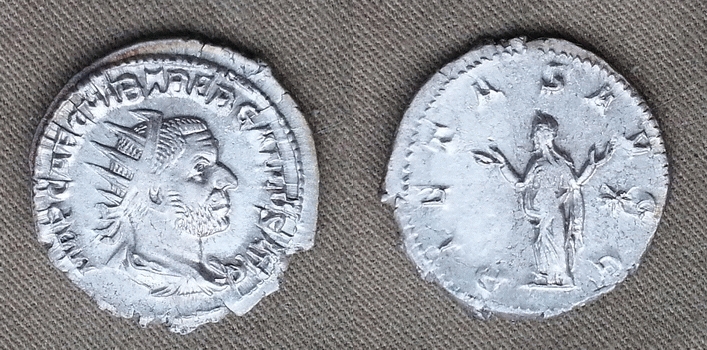 Trebonianus Gallus AR Antoninianus. 251-253 AD.
Obv: IMP CAE C VIB TREB GALLVS AVG, radiate, draped bust right
Rev: PIETAS AVGG, Pietas, veiled, standing left, raising both hands.
RIC IV 41, Sear 9642
76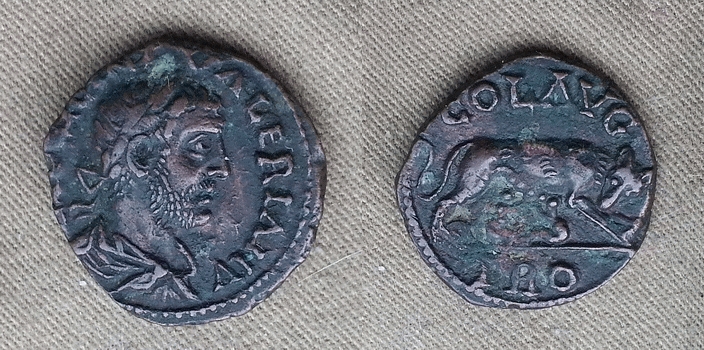 Valerian I AE 21mm of Alexandria Troas
Obverse: IMP LIC VALERIAN, Laureate, draped bust right
Reverse COL AVG-TRO, She-wolf standing right, suckling twins
BMC 184, SNG Cop 200var.
77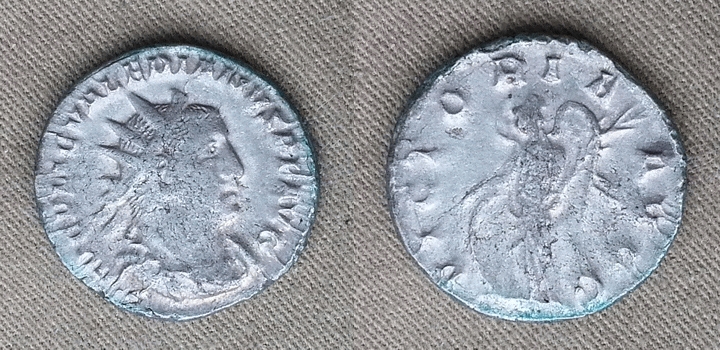 Valerian Billon Antoninianus Rome mint, AD 256-257
Obv: IMP C P LIC VALERIANVS P F AVG, radiate, draped and cuirassed bust right.
Rev: VICTORIA AVGG, Victory standing left holding palm and resting hand on shield
RIC V-I 128C; RSC 224
78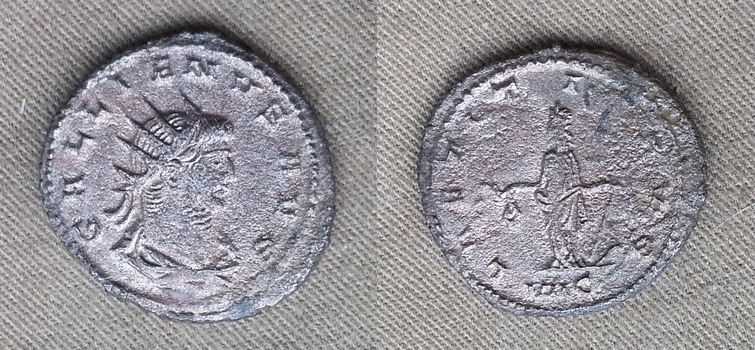 Gallienus, Bi. antoninianus, Rome mint.
Obverse: GALLIENVS AVG, radiate, cuirassed bust right.
Reverse: LAETITIA AVG, Laetitia standing left, holding wreath and anchor.
Something in exergue, but unknown to me at this point.
Rome 226
79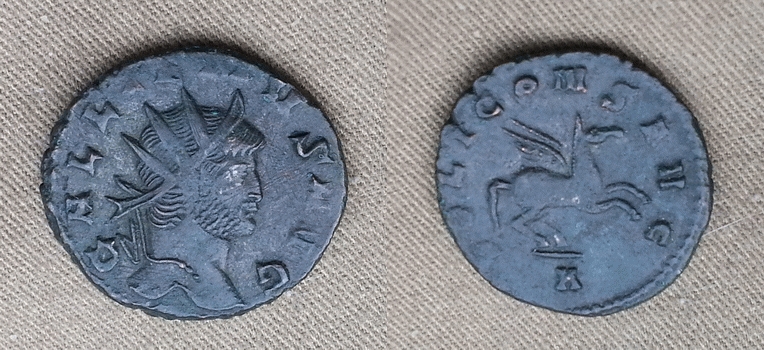 Gallienus AE Antoninianus. Sole reign. Rome.
Obverse: GALLIENVS AVG, radiate head right.
Reverse: SOLI CONS AVG, Pegasus springing right, heavenward.
Mintmark A.
Goebl 712b; RIC V-1, Rome 283 var (bust type)
80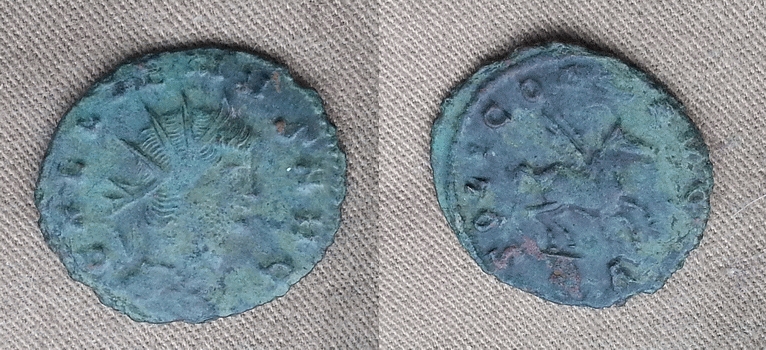 Gallienus, AE antoninianus, Rome mint. Sole reign.
Obverse: GALLIENVS AVG, radiate head right.
Reverse: SOLI CONS AVG, Pegasus springing right.
Officina letter A offset to right of exergue.
RIC V-1, Rome 283 var (mintmark A); Goebl 712
81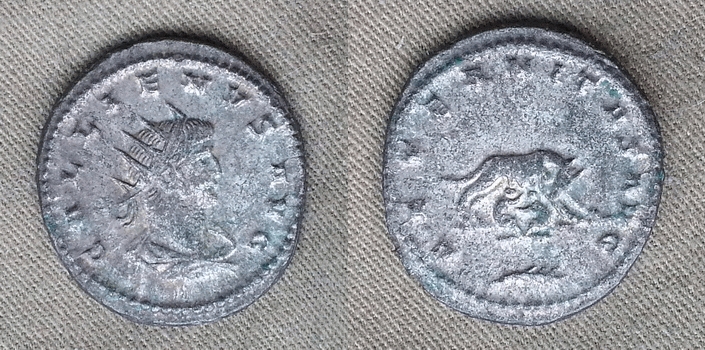 Gallienus, Antoninianus, 260-268, Antioch
Obverse: GALLIENVS AVG. Radiate, draped, cuirassed bust right, seen from behind
Reverse: AETERNITAS AVG, She-wolf standing right, suckling twins
Palm branch right in exergue
RIC V, Part I, 628; Göbl 1628c
82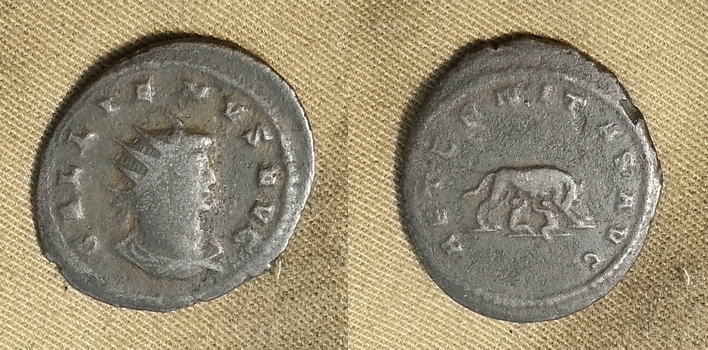 Gallienus, Antoninianus, 260-268, Sole Reign, Asia, Antioch
Obverse: GALLIENVS AVG Radiate, draped, cuirassed
bust right, seen from behind
Reverse: AETERNITAS AVG She-wolf standing right,
suckling twins (No Palm branch right in exergue)
RIC V, Part I, 628; Göbl 1628c
83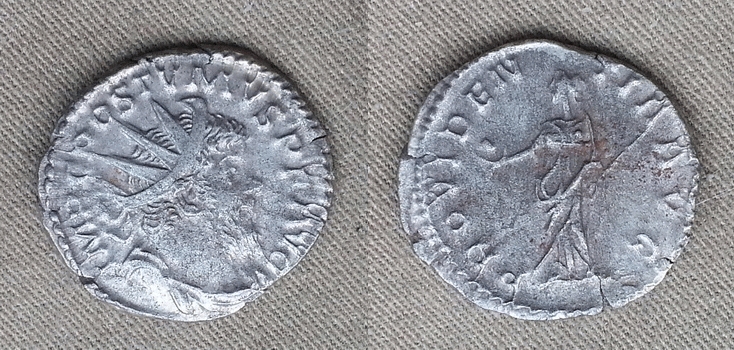 Postumus. Antoninianus. Lyons.
Obverse: IMP C POSTVMVS PF AVG, radiate, draped bust right
Reverse: PROVIDETIA AVG, Providentia standing left,
holding globe and transverse sceptre
RIC V-II Lyons 80 var (rev legend) RIC 80 var
84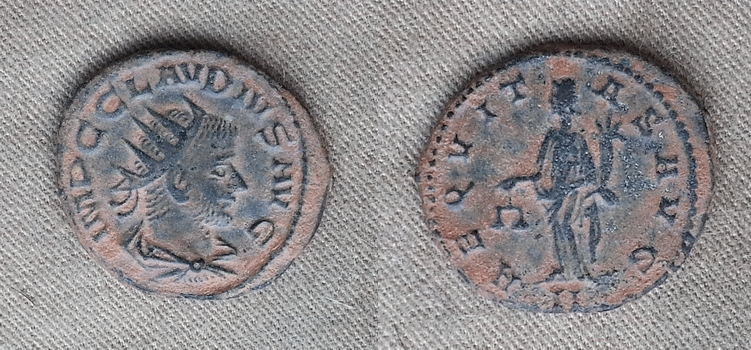 Claudius II, Antoninianus, 268-270, Antioch, Officina 8
Obverse: IMP C CLAVDIVS AVG Radiate, draped, cuirassed bust right, seen from behind
Reverse: AEQVIT_AS AVG Aequitas standing left, scales in right hand,
cornucopiae in left, H in exergue
RIC V, Part I, 197
85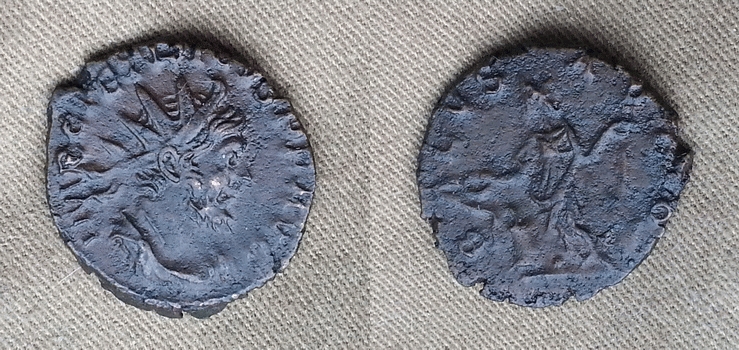 Tetricus I Antoninianus, 270-273AD, struck 273/274 AD at mint I.
Obverse: IMP C TETRICVS P F AVG, radiate, draped and cuirassed bust right.
Reverse: SALVS AVGG, Salus standing left, holding patera in
right hand from which a snake, which is rising from small altar
placed on ground to left, is feeding; in her left hand Salus holds rudder.
RIC 126; Elmer 779; Sear 11247
86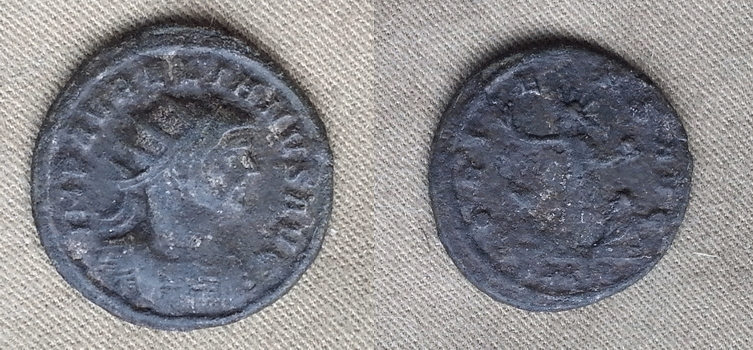 Aurelian, Antoninianus, 270-275 AE Antoninianus
IMP AVRELIANVS AVG, Radiate, cuirassed bust right
ORIENS AVG, Sol walking left, raising right hand and holding
globe in left, treading down one of two captives.
Q in right field, XXI in ex.
RIC V-1, 62 Rome
87

Severina, AE antoninianus. Rome.
Obverse: SEVERINA AVG, diademed, draped bust right, on crescent.
Reverse: CONCORDIA AVGG, Severina standing right, clasping hand of Emperor, standing left
Mintmark digamma XXIR in exergue.
RIC V-1 Rome 3
88

Aurelian AE Antoninianus. Siscia 274
Obverse: IMP C AVRELIANVS AVG, radiate, cuirassed bust right.
Reverse: CONCORDIA MILITVM, Emperor standing right, clasping
hand of Concordia, standing left.
Exergue: XXIII
RIC V-1, 244 Siscia; Sear 11523
89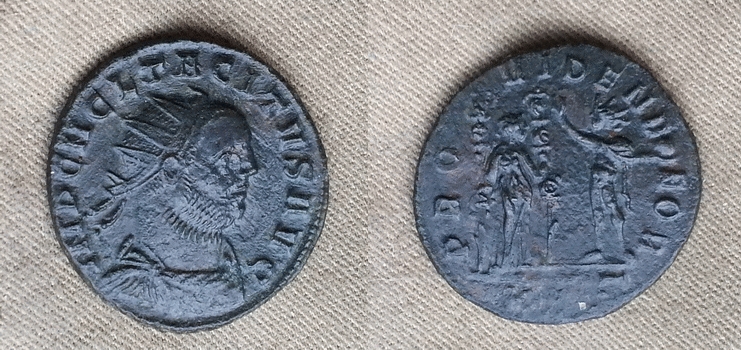 Tacitus, AE antoninianus. Serdica.
IMP CM CL TACITVS PF AVG, radiate, draped, cuirassed bust right.
PROVIDEN DEOR, Providentia standing right, holding two
standards, facing Sol, standing left, holding globe and raising right hand.
Mintmark KA Delta
90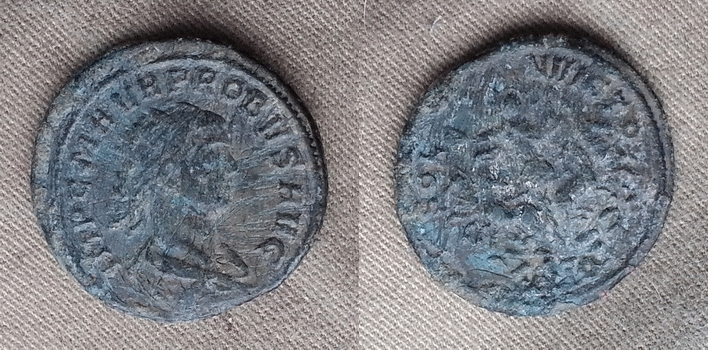 Probus AE Antoninianus. Serdica Mint. Minted 277
Obverse: IMP C M AVR PROBVS P F AVG, Radiate, draped and cuirassed bust r.
Reverse: SOLI INVICTO, Sol in spread quadriga, r. hand raised, holding globe in l.;
KAB in exe. Emission 4 Officina 2
References – RIC 861 Bust Type C
91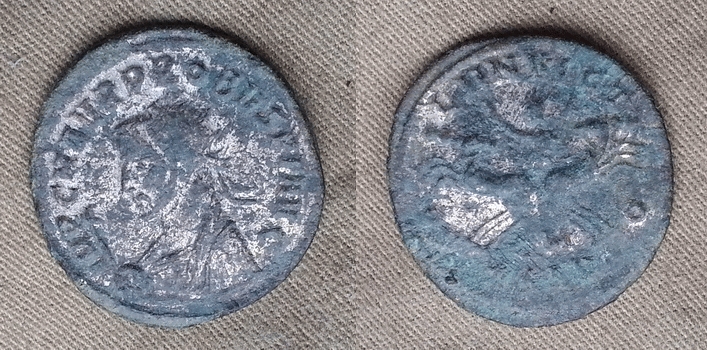 PROBUS. 276-282, Antoninianus, Serdica mint. Struck 277.
Obverse: IMP C M AVR PROBVS P F AVG, radiate bust left,
wearing imperial robes and holding eagle-tipped sceptre
Reverse: SOLI INVICTO, Sol standing left in quadriga facing,
raising hand and holding globe; (I can't say.) in exergue.
RIC V 861
92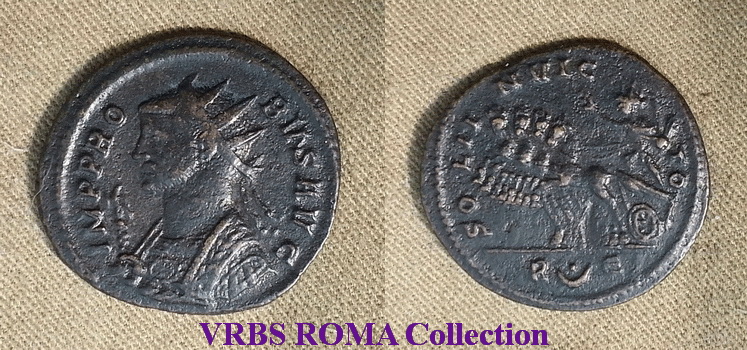 Probus, Rome, AE Antoninianus AD 278
Obverse: IMP PROBVS AVG, Radiate bust left, wearing
imperial mantle and holding eagle-tipped sceptre.
Reverse: SOLI INVICTO, Sol driving quadriga left.
Mintmark R-dot in crescent-B
Ref: RIC 202
93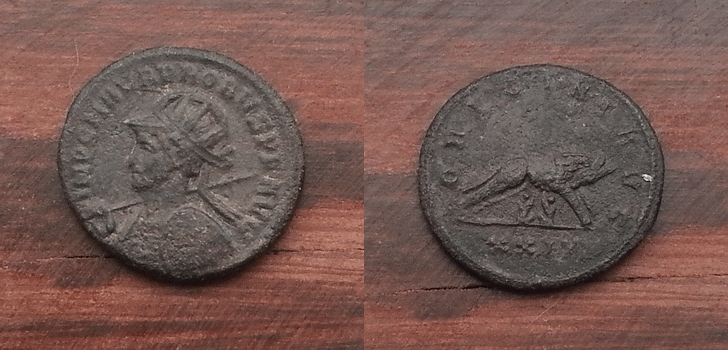 Probus, Antoninianus
Obverse: IMP C M AVR PROBVS P F AVG, radiate,
helmeted, and cuirassed bust left holding spear and shield
Reverse: ORIGINI AVG She-wolf right, suckling Romulus and Remus,
XXIT in exergue
(I could not find this Obv. with twins Rev.)
94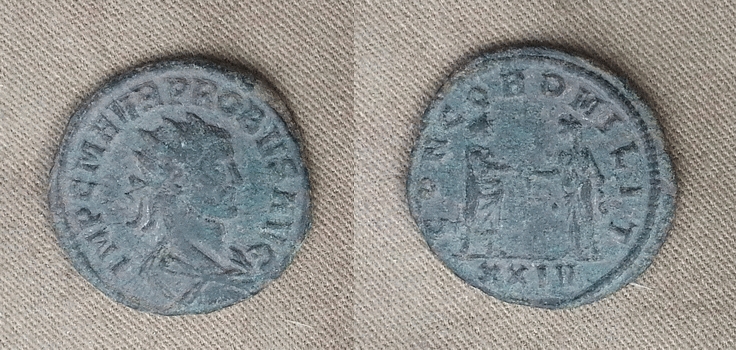 Probus AE Antoninianus. Siscia Mint
Obverse: IMP C M AVR PROBVS AVG,
Radiate, draped and cuirassed bust r.
Reverse: CONCORD MILIT, Emperor standing right,
clasping hand of Concordia; XXI? in exegue
95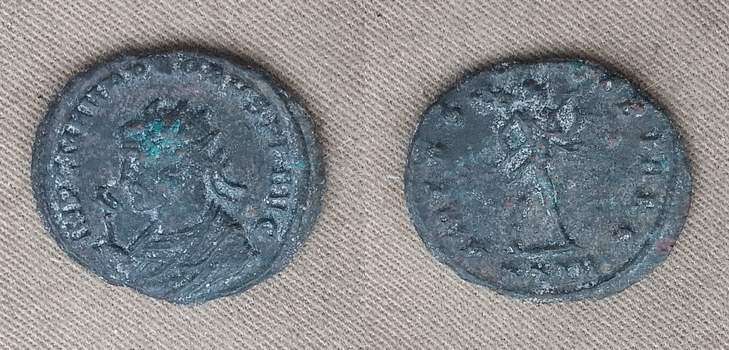 Probus, AE antoninianus, Siscia.
Obverse: IMP CM AVR PROBVS PF AVG, radiate bust left,
wearing imperial mantle and holding eagle-tipped sceptre.
Reverse: VIRTVS PROBI AVG, Mars walking right, holding spear and trophy.
Mintmark XXIQ
RIC V-2 Siscia, 810
96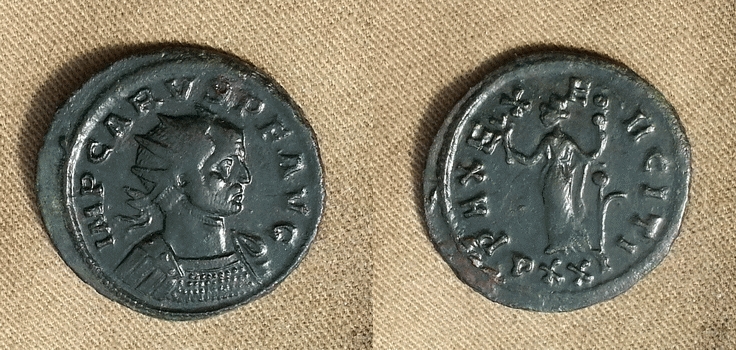 Carus 282 - 283 Antoninianus, Ticinum 1. officina
Obverse: IMP CARVS PF AVG cuirassed bust, radiate head r.
Reverse: . PAX EXERCITI Pax standing left, holding
standard left. and olive-branch r. exergue: PXXI
RIC V, 75
97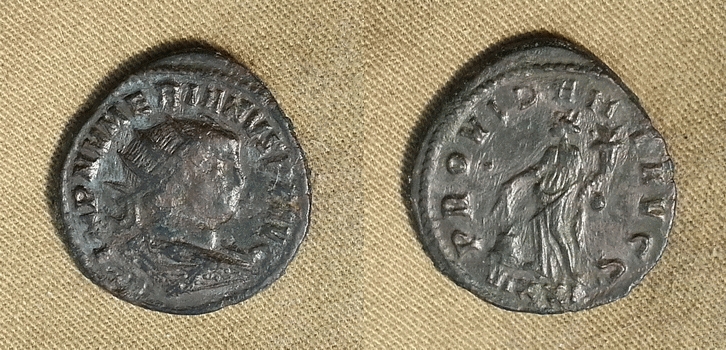 Numerian, 283-284 AD. Æ Antoninianus of Ticinum
Obverse: IMP NVMERIANVS P F AVG, Radiate and draped bust right
Reverse: PROVIDENT AVGG, Providentia standing left holding
corn ears over modius at feet left, & cornucopiae.
VIXXI in ex.
RIC 447
98

Numerian, 283-284, Antoninianus, struck 283-284 at Rome
Obverse: IMP NVMERIANVS AVG - Radiate and cuirassed bust right
Reverse: PIETAS AVGG - Mercury standing left,
holding purse and caduceus
Mintmark KA Delta
RIC 416, RIC-V-II-415-C
99

Carinus A.D. 283-5. Billon Antoninianus. Siscia Mint.
Obverse: M. AVR. CARINVS NOB. CAES. His radiate, cuirassed bust r.
Reverse: PRINCIPI. IVVENT. Prince standing l., holding
baton and spear; to r., star and T; in exergue, XXI.
RIC 162, 197. Cohen 89
100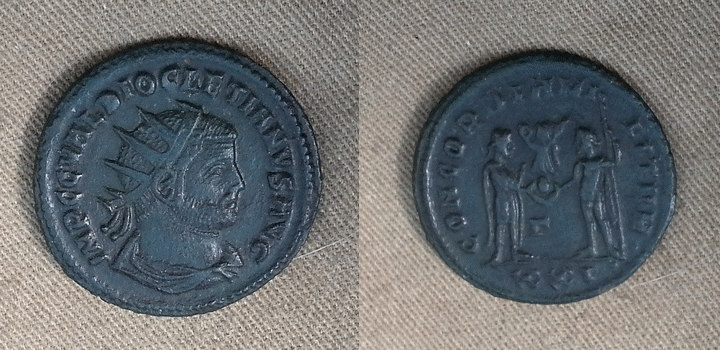 Diocletian AE AD 284-305 AE Antoninianus
Obverse: IMP C C VAL DIOCLETIANVS P F AVG Radiate bust right, draped and cuirassed
Reverse: CONCORDIA MILITVM Jupiter presents Victory on a globe to Diocletian
Gamma in lower centre, mintmark XXI
Exe: XXI (gamma) Antioch mint: AD 293-95
RIC Vii, 322C, page 256 - Cohen 34
101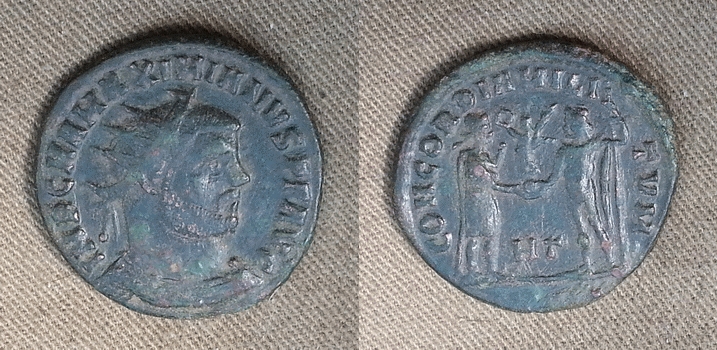 Maximianus Herculius AE Antoninianus, Heraclea. AD 286-305
IMP C M A MAXIMIANVS P F AVG, radiate, cuirassed bust right.
CONCORDIA MILITVM, Jupiter standing left, holding sceptre,
presenting Victory on globe to emperor, standing right.
Mintmark dot XXI V.
RIC V 595; Sear 13116
102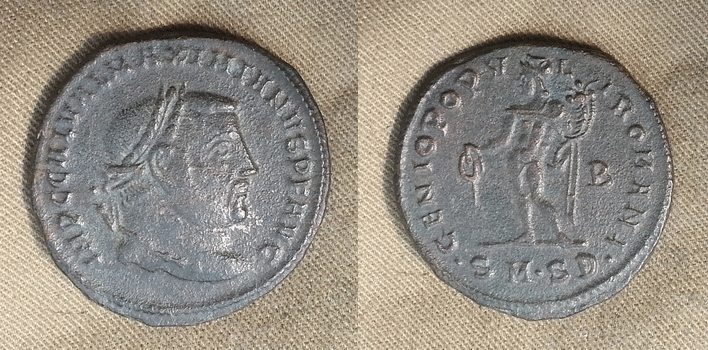 Maximianus Herculeus AE Follis, Serdica. 303-305 AD.
Obverse: IMP CC ML VAL MAXIMIANVS PF AVG, laureate head right.
Reverse: GENIO POPV-L-I ROMANI, Genius standing left, modius on
head, naked except for chlamys over left shoulder, holding patera from
which liquid flows, and cornucopiae.
Gamma in right field. Mintmark SM dot SD dot in exergue
103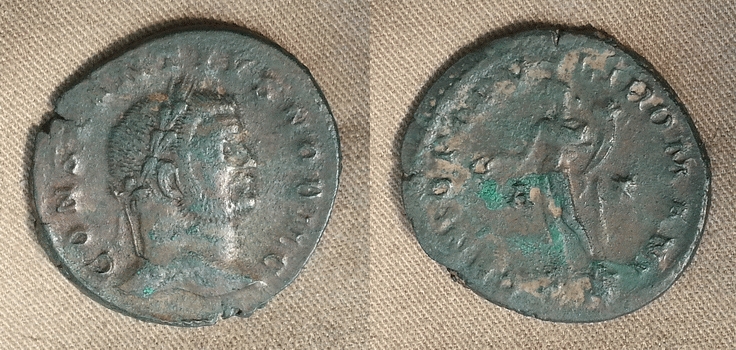 Constantius I Chlorus, as Caesar, AE Follis. Struck circa 298
Obverse: CONSTANTIVS NOB CAES, laureate head right
Reverse: GENIO POPV-LI ROMANI, Genius standing left, holding
patera, cornucopiae; A in field, mintmark 'Unknown'.
104

Maxentius AE Follis 307 - 308.
Obverse: IMP C MAXENTIVS PF AVG, laureate head right
Reverse: CONSERV-VRB SVAE, Roma seated facing, head left, in
hexastyle temple, holding globe and scepter, Victories as acroteria; wreath in pediment.
H in left field
Mintmark: RT
RIC VI Rome 202
105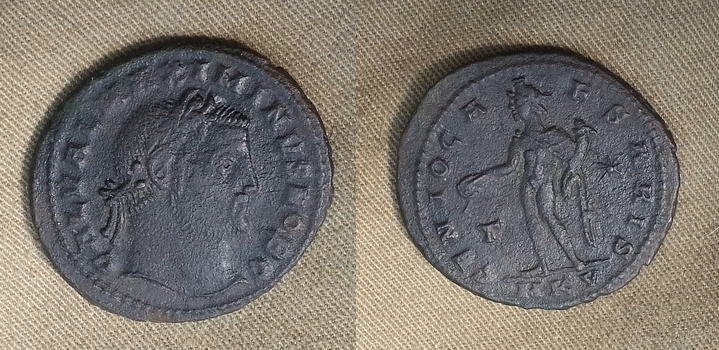 Maximinus II, AE follis, Cyzicus. 308-309
Obverse: GAL VAL MAXIMINVS NOB C, laureate head right.
Reverse: GENIO CA-ESARIS, Genius standing left, modius on head,
naked except for chlamys over left shoulder, holding patera and cornucopiae.
Left field: Gamma. Right field star.
Mintmark: MKV
106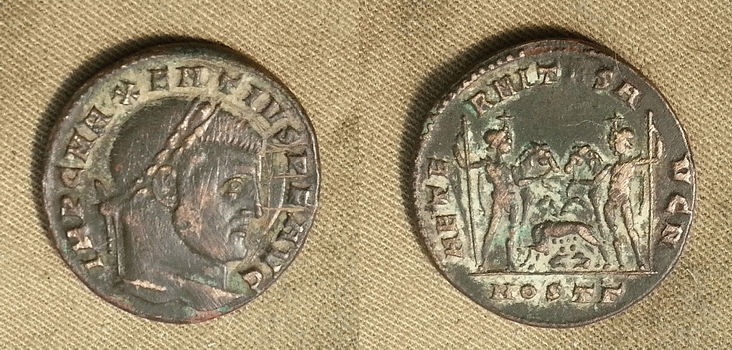 Maxentius AE Follis, Ostia, AD 309.
Obverse: IMP C MAXENTIVS PF AVG, laureate head right.
Reverse: AETERNITAS AVG N, the Dioscuri Castor and Pollux,
each with a star above the cap, naked but for chlamys hanging from
shoulder, standing facing each other, each leaning on sceptre
and holding horse's bridle; she-wolf with twins between them.
Mintmark MOSTB.
RIC VI, Ostia 16; Cohen 10
107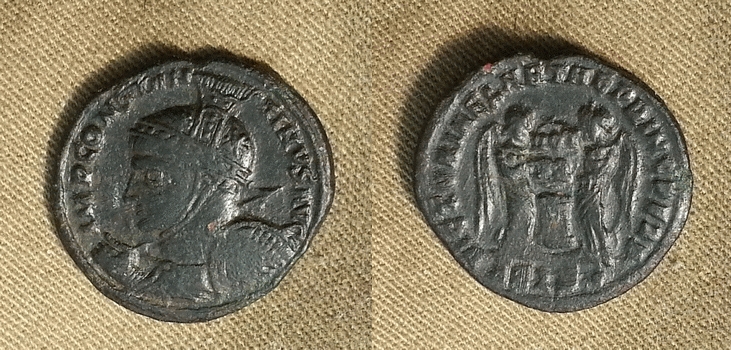 Constantine I AE follis, Siscia.
Obv: IMP CONSTANTINVS AVG, Helmeted laureate, cuirassed
bust left, holding spear and shield.
Rev: VICTORIAE LAETAE PRINC PERP, Two Victories facing,
holding shield inscribed VOT PR on altar with design
Helvetica 7S (an X)
108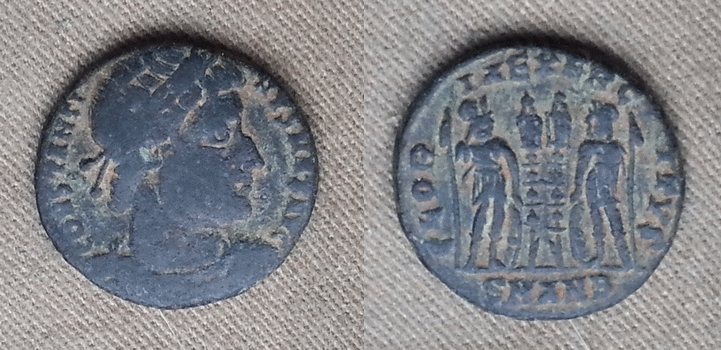 Constantine I AE3
Obverse: CONSTANTINVS MAX AVG, rosette-diademed, draped & cuirassed bust right
Reverse: GLORIA EXERCITVS, Two helmeted soldiers standing facing one another,
with spears and shields & 2 standards between, SMANB in exergue
109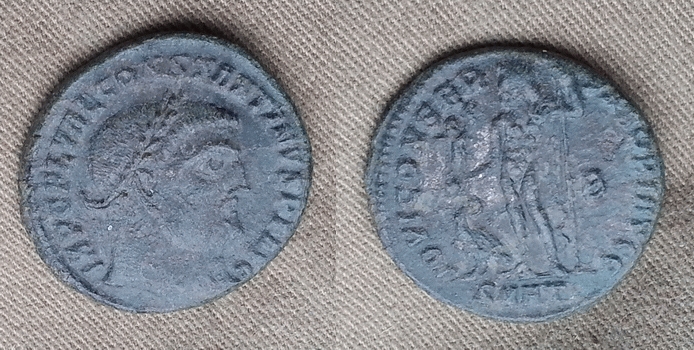 Constantine I, Follis, 306-337
Obverse: IMP C FL VAL CONSTANTINVS P F AVG - Laureate head right.
Reverse: IOVI CONS-ERVATORI AVGG - Jupiter standing left,
holding Victory on a globe and scepter; at feet, left, an eagle with a wreath in it's beak.
Exe: SMHT / B Heraclea mint: AD 313-314
RIC VII, 5 ("B" = Rare r3)
110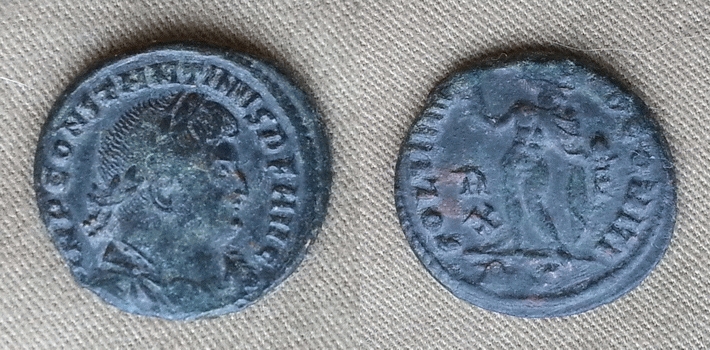 Constantine I, AE Follis, 314, Rome, Officina 1
Obverse: IMP CONSTANTINVS P F AVG Laureate, draped, cuirassed bust right
Reverse: SOLI INV_I_CTO COMITI Sol, radiate, standing facing, head left,
naked but for chlamys over left shoulder, right hand raised, globe in left
R / X | F across fields. RP in exergue
RIC VII, 27 (C3)
111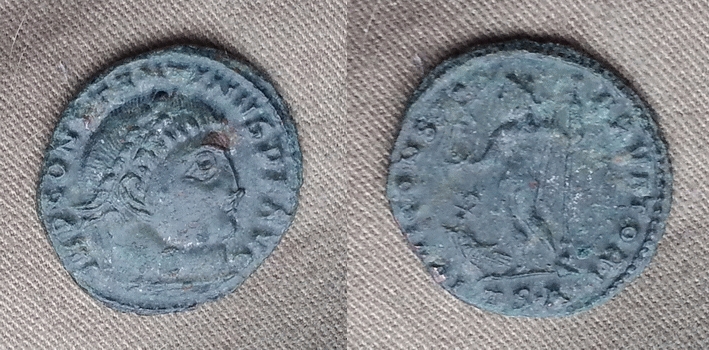 Constantine I AE Follis. Thessalonica. 317-318
IMP CONSTANTINVS P F AVG, laureate head right.
IOVI CONS-ERVATORI, Jupiter standing left, holding Victory on globe
and sceptre, eagle at foot left, with wreath in its beak
Mintmark dot TS dot 'A or Delta'.
RIC VII Thessalonica 19
112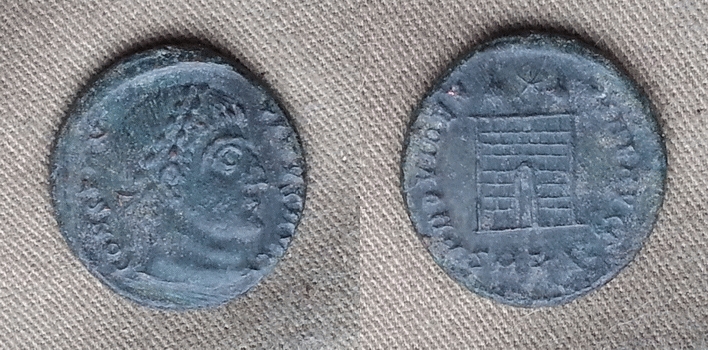 Constantine I, AE3, 325-326, Cyzicus, Officina 6
Obverse: CONSTAN_TINVS AVG Laureate head right
Reverse: PROVIDEN_TIAE AVGG Campgate with seven rows, two turrets, no doors,
star above, top and bottom rows empty blocks,
SMKS pellet in exergue
RIC VII, 34
113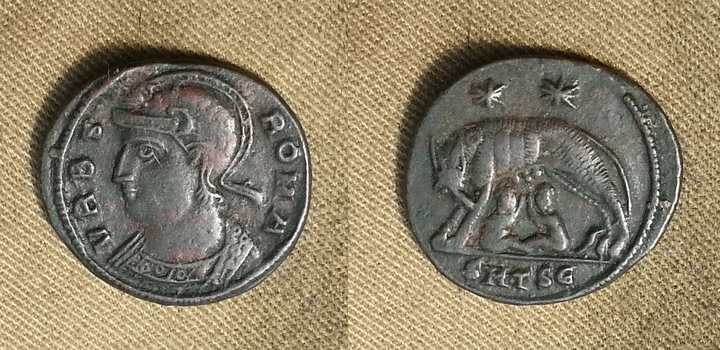 Vrbs Roma AE Constantine I AD 306-337
Obverse: VRBS ROMA - Helmeted bust of Roma left, cuirassed.
Reverse: no legend - Wolf and twins Romulus and Remus,
above are two stars. Exegue SMTS (epsilon)
Thessalonica mint: AD 330-333 = RIC VII, 187, page 524
114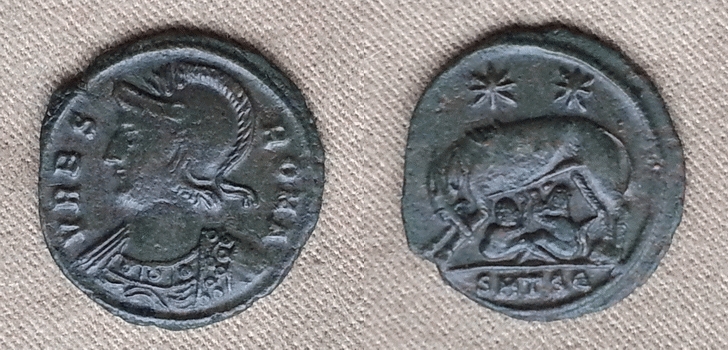 Vrbs Roma AE Constantine I AD 306-337
Obverse: VRBS ROMA - Helmeted bust of Roma left, cuirassed.
Reverse: no legend - Wolf and twins Romulus and Remus,
above are two stars. Exegue SMTS (epsilon)
Thessalonica mint: AD 330-333 = RIC VII, 187, page 524
115

City Commemorative, Cyzicus. AE 330-334 AD.
Obverse: VRBS ROMA, helmeted bust of Roma left,
wearing imperial mantle and ornamental necklace.
Reverse: She-wolf standing left, head right, suckling the twins
Romulus and Remus. Two stars above.
Mintmark SMKS dot
RIC VII Cyzicus 71
116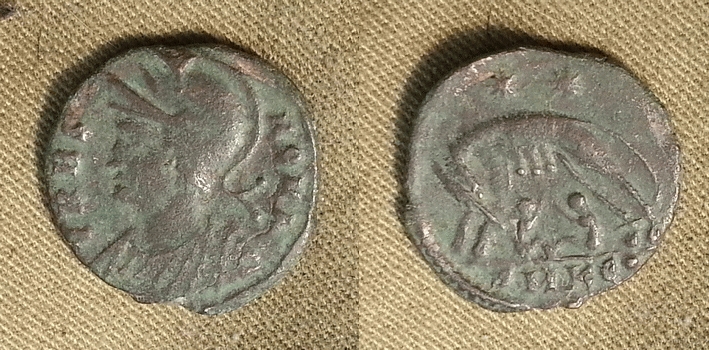 City commemorative, Cyzicus, AD 330-334.
VRBS ROMA, helmeted bust of Roma left, (no plume), wearing
imperial mantle and ornamental necklace.
She-wolf standing left, head right, suckling the twins
Romulus and Remus. Two stars above.
Mintmark SMK epsilon dot
117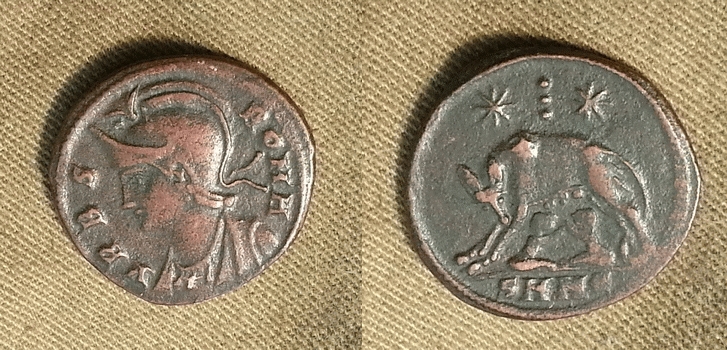 VRBS ROMA. 330-335 AD. AE Nicomedia mint
Obverse: VRBS ROMA, helmeted and draped bust of Roma left
Reverse: She-wolf standing left, suckling twins; three pellets
aligned vertically between two stars above; SMNS in exegue
RIC VII 195
118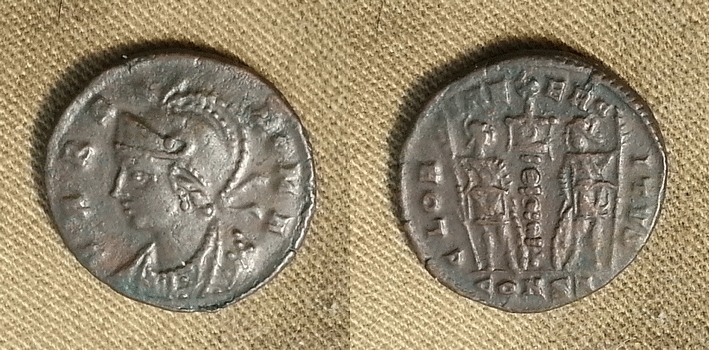 Urbs Roma AE Constantinople 330-335 AD.
Obverse: VRBS-ROMA, helmeted bust of
Roma left, wearing imperial mantle
Reverse: GLORI-A EXER-CITVS, two soldiers holding
spears and shields with one standard between them,
o on banner, mintmark CONS epsilon in exegue
119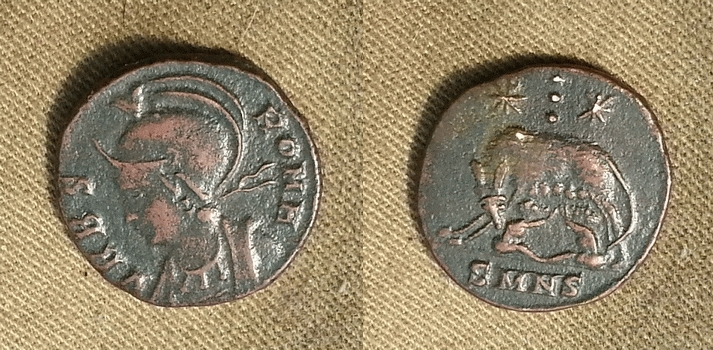 VRBS ROMA. 330-335 AD. AE Nicomedia mint
Obverse: VRBS ROMA, helmeted and draped bust of Roma left
Reverse: She-wolf standing left, suckling twins; three pellets
aligned vertically between two stars above; SMNS in exegue
RIC VII 195
120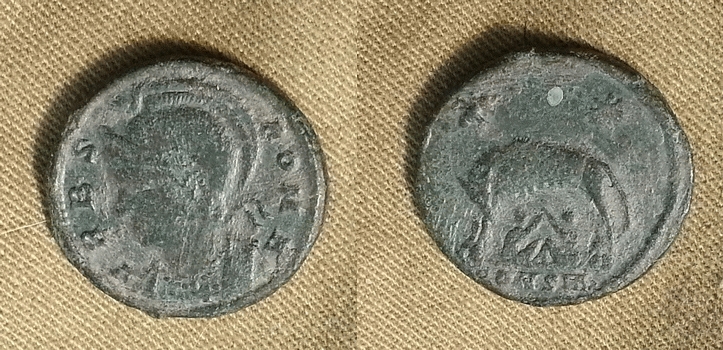 VRBS ROMA. 330-335 AD. AE
VRBS ROMA, head of Roma left, wearing plumed helmet and imperial mantle
Reverse: she-wolf to left suckling Romulus and Remus, two stars above
Mintmark SCONST
121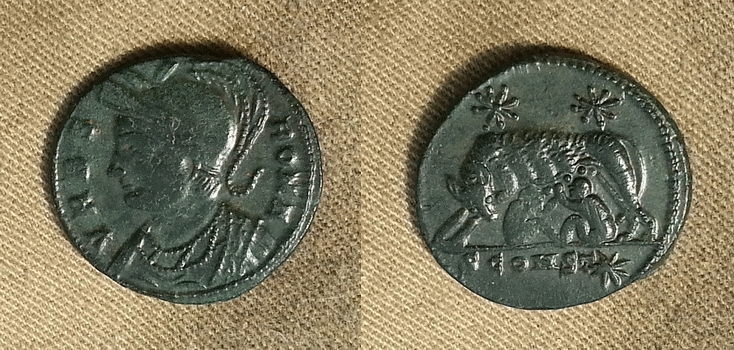 VRBS ROMA AE follis. Arles. AD 332-333
Obverse: VRBS-ROMA, Head of Roma left,
wearing plumed helmet and imperial cloak
Reverse: Wolf to left suckling Romulus and Remus, two stars above
Mintmark: SCONST star
Arles RIC VII 351
122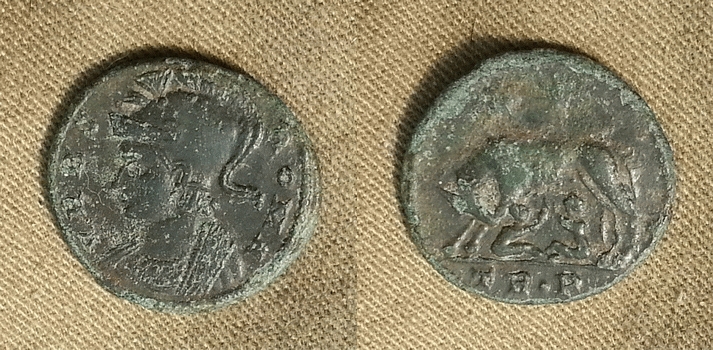 Vrbs Roma. 332/3 AD. AE Follis. Trier mint.
Obverse: VRBS ROMA, helmeted and cuirassed bust of Roma left.
Reverse: She-wolf standing left, suckling twins, two stars above;
star on wolf's shoulder.
Mintmark TR•P.
RIC VII Trier 542
120Vrbs Roma commemorative AE3. 330-334 AD.
Obverse: VRBS ROMA, helmeted cuirassed bust of Roma left
Reverse: she-wolf left, suckling Romulus and Remus, stars L/Rsides of vertical dots above
SMH(Epsilon) in ex. Rated R4 in RIC.
123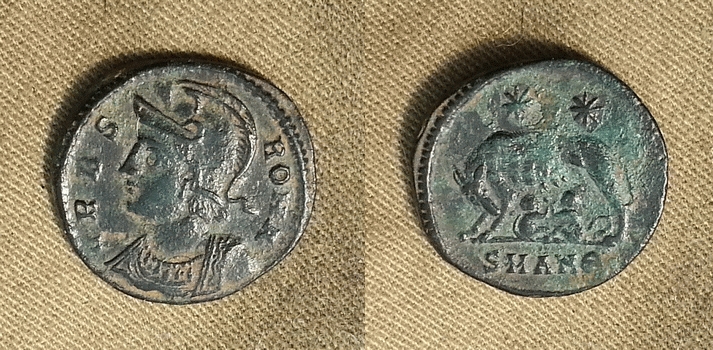 City Commemorative, Antioch, AE follis, 335-337.
Obverse: VRBS ROMA, helmeted head of Roma left,
wearing imperial cloak and ornamental necklace
Reverse: She-wolf suckling Romulus and Remus, helmet and
neck piece on wolf's shoulder, two stars above.
Mintmark: SMAN theta
124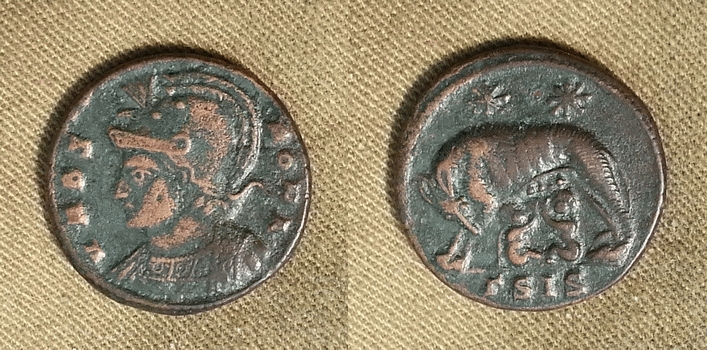 City Commemorative, Siscia, AE follis, 335-337.
Obverse: VRBS ROMA, helmeted head of Roma left,
wearing imperial cloak and ornamental necklace
Reverse: She-wolf standing left, suckling Romulus and Remus, two stars above.
Mintmark: Gamma SIS.
RIC VII Siscia 222
125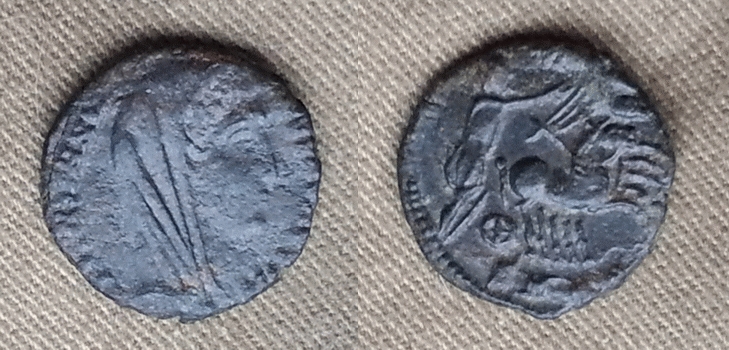 Constantine I AE4 306-337 (Postumus Cyzicus mint: 337-340)
Obverse: - DV CONSTANTI-NVS PTAVGG- Veiled head right.
Reverse: no legend - Constantine in Quadriga right, the hand of God,
upper center, grasps the chariot.
Exergue: SM 'The rest is not readable'
126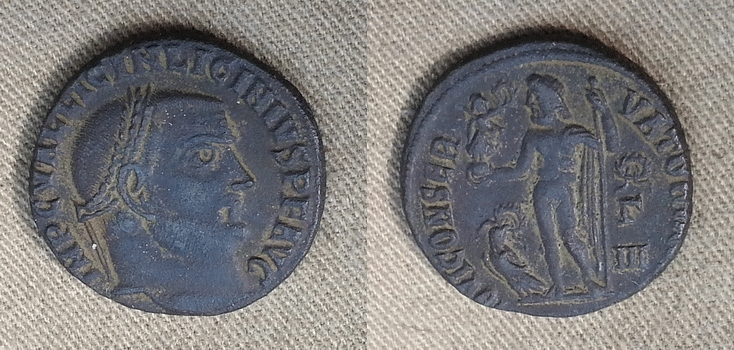 Licinius I AE Follis of Antioch. 313-314 AD.
Obverse: IMP C VAL LICIN LICINIVS PF AVG, laureate head right
Reverse: IOVI CONSER-VATORI AVGG, Jupiter standing left,
chlamys across left shoulder, holding Victory on globe and leaning
on sceptre, eagle with wreath left.
Wreath over Gamma over III in right field. Mintmark ANT.
RIC VII Antioch 8; Sear 15244
127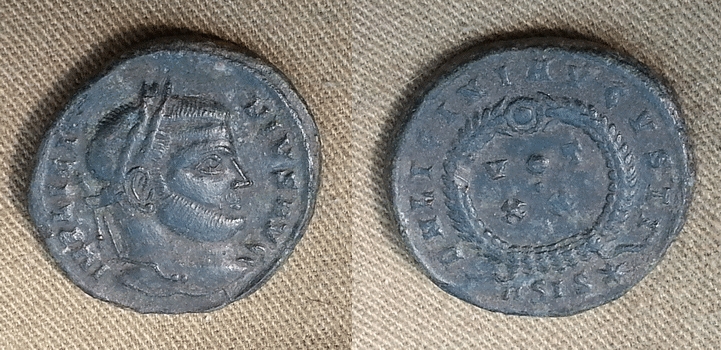 Licinius I AE Follis. Siscia, 320 AD
Obverse: IMP LICI-NIVS AVG, laureate head right
Reverse: DN LICINI AVGVSTI around VOT XX. Mintmark: BSIS star.
RIC VII Siscia 160; Sear 15340, rated scarce
128

Licinius I, AE follis. Aquileia. 320
Obverse: IMP LIC-INIVS AVG, helmeted, cuirassed bust right
Reverse: VIRTVS-EXERCIT, Standard inscribed VOT/XX with captive
seated on ground on either side.
S-F across fields. Mintmark AQS
129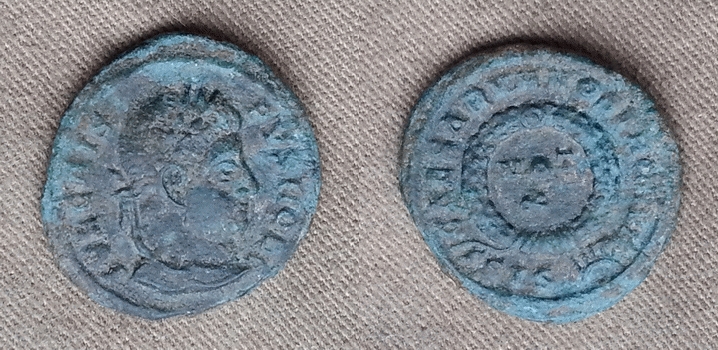 Crispus, 321-324 AE, follis of Siscia.
Obverse: IVL CRISPVS NOB C, Laureate head right
Reverse: CAESARVM NOSTRORVM, VOT dot X within wreath.
Mintmark Gamma SIS sunburst
RIC VII Siscia, 18
130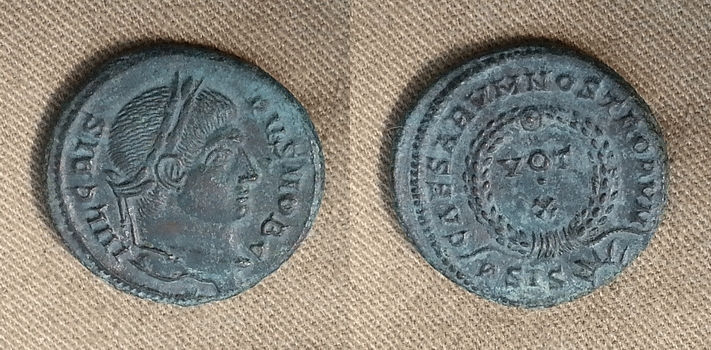 Crispus, Caesar 321-324 AE, Bronze Follis. Siscia.
Obverse: IVL CRISPVS NOB C, Laureate head right
Reverse: CAESARVM NOSTRORVM, VOT dot X within wreath.
Mintmark Delta SIS sunburst
RIC VII 181 Siscia
131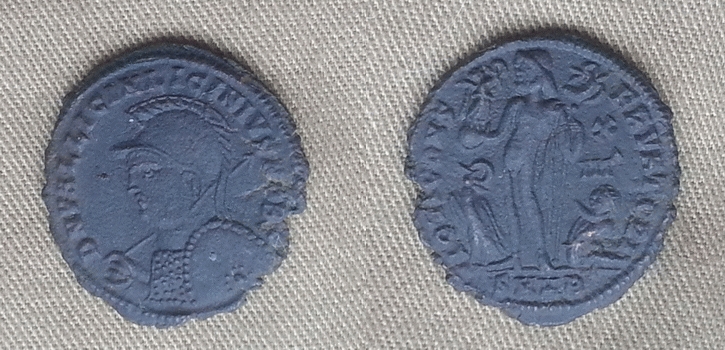 Licinius II, AE follis of Heraclea, AD 321-324
Obverse: DN VAL LICIN LICINIVS NOB C, helmeted,
cuirassed bust left, holding spear and shield
Reverse: IOVI CONSERVATORI, Jupiter standing left, holding
Victory on globe and sceptre, eagle with wreath in beak at foot left,
captive at foot right, X over II Mu in right field.
Mintmark SMH?.
RIC VII Heraclea 54; Sear 15407
132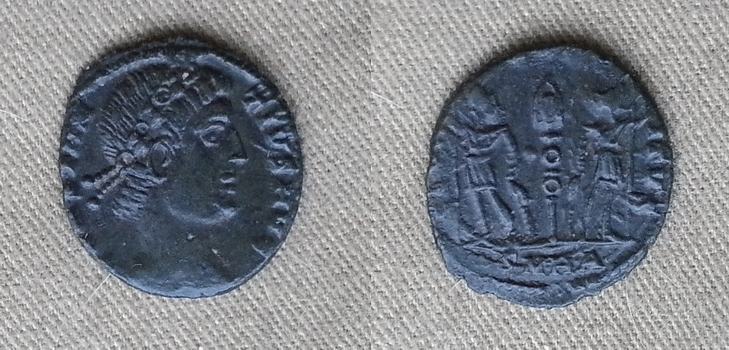 Constantine II AE4.
Obverse: CONSTANTI-NVS VM AVG, laureate, rosette-diademed, draped & cuirassed bust right
Reverse: GLOR-IA EXERC-ITVS, two soldiers holding spears and shields with one standard between
Mintmark: SMHD.
RIC VIII Heraclea 17, rated scarce
133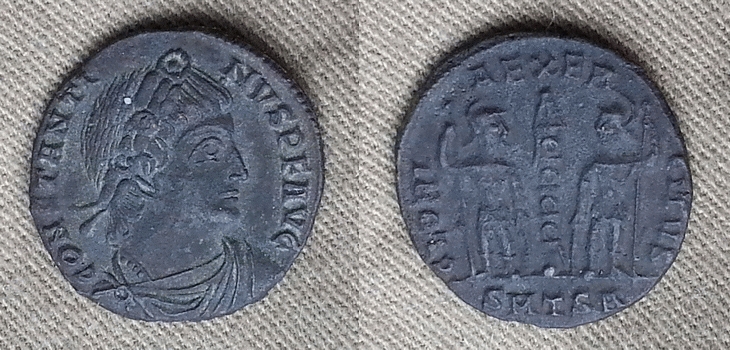 Constantine II. A.D. 337-340. AE Thessalonica Mint
Obverse: CONSTANTIVS P. F. AVG. Laurel and rosette diademed, draped and cuirassed bust r.
Reverse: GLORIA EXERCITVS. Two helmeted soldiers facing, heads turned towards each
other; each holds an inverted spear and rests shield on a shield; between them, a standard;
in exergue, SMTSA
RIC 407, 55
134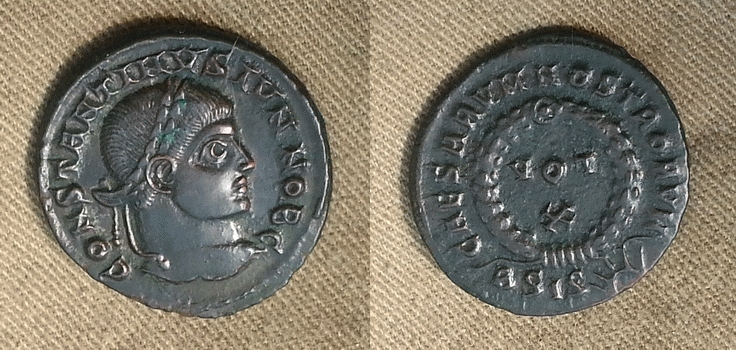 Constantine II. A.D. 337-340, Siscia mint 321-4.
Obverse: CONSTANTINVS IVN. NOB. C. laureate head r.
Reverse: CAESARVM NOSTRORVM around VOT X in two lines in laurel-wreath.
Mintmark Delta SIS sunburst.
RIC 182
135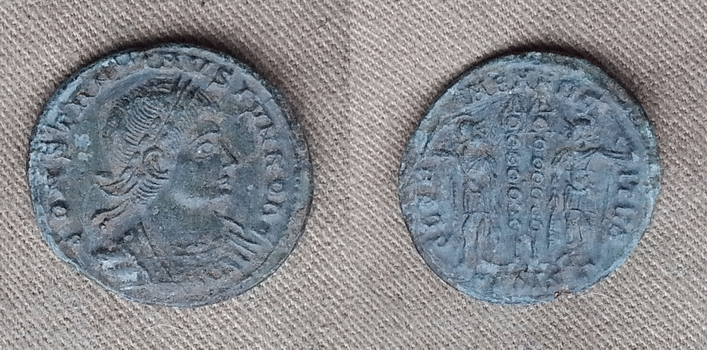 Constantine II AE3 Siscia mint: AD 334-335
Obverse: CONSTANTINVS IVN NOB C - Laureate bust right, draped and cuirassed.
Reverse: GLOR-IA EXERC-ITVS - Two Soldiers standing front, heads
turned inward at two standards between them, each holds a spear.
Exe: (dot) (epsilon) SIS (dot)
RIC VII, 236, page 455
136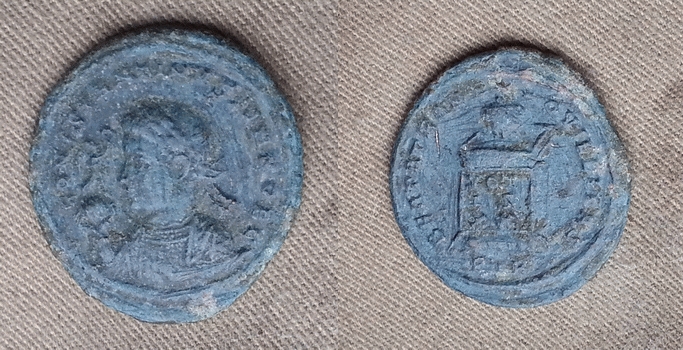 Constantine II, AE follis. Trier. 321.
Obverse: CONSTANTINVS IVN NOB C, laureate, mantled bust left,
holding Victory on globe and mappa.
Reverse: BEATA TRAN-QVILLITAS, globe on altar inscribed
VOT-IS-XX, three stars above. Mintmark PTR.
RIC VII 312, Rated R4
137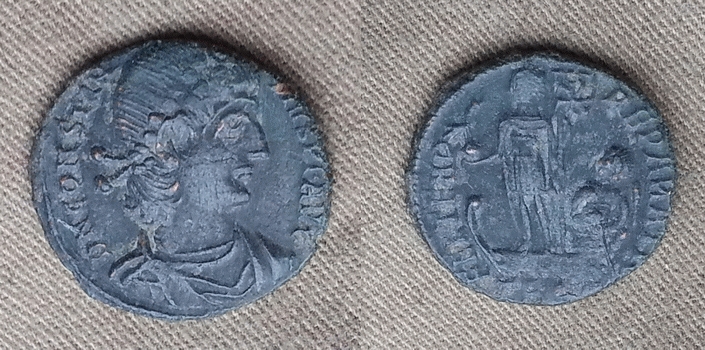 Constans AE3. AD 349-350, AE 25mm, 5.4g.
Obv: DN CONSTA-NS PF AVG, pearl diademed, draped & cuirassed bust right
Rev: FEL TEMP-REPARATIO, Emperor in military dress standing on galley moving
left, holding phoenix on globe & labarum. Victory sitting at the stern, steering the ship.
Mintmark: SARL.
RIC VIII Arles 100, LRBC 1151. rated common
138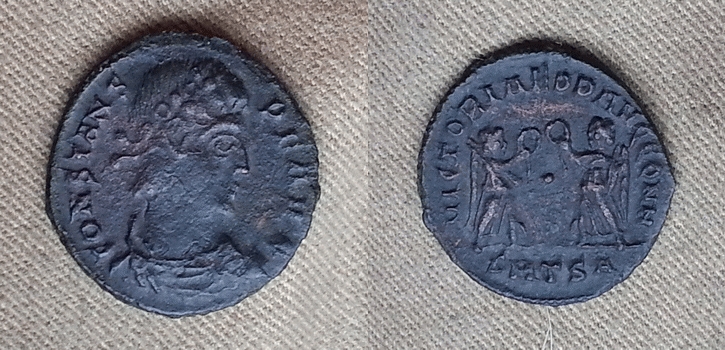 Constans, AE4, Thessalonica. AD 336-337.
Obverse: CONSTANS-PF AVG, laurel and rosette-diademed, draped, cuirassed bust right.
Reverse: VICTORIAE DD AVGGQ NN, two Victories standing facing each other,
each holding wreath and palm branch.
Mintmark SMTSA.
RIC VIII Thessalonica 100.
Rated C2 (Common)
139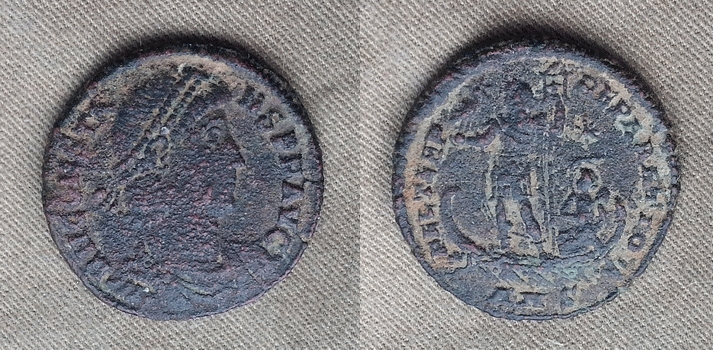 Constans AE23. 347-348 AD. Nicomedia
Obverse: DN CONSTA-NS PF AVG, pearl diademed, draped, cuirassed bust right
Rev erse: FEL TEMP-REPARATIO, Emperor standing left on galley, holding
Phoenix on globe and labarum, piloted by Victory, star in right field,
(?? ANS in ex. Could be Delta NS ?? Not sure)
140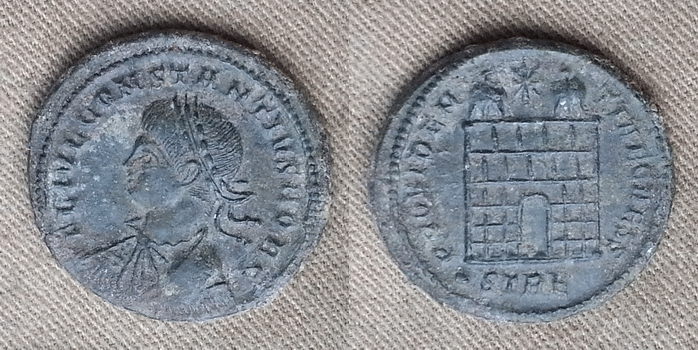 Constantius II, as Caesar, AE Follis. 326 AD
Obverse: FL IVL CONSTANTIVS NOB C, laureate, draped and cuirassed bust left
Reverse: PROVIDENTIAE CAESS, camp gate with six layers, two beacons, no doors, star above
Mintmark STR (Can't say what the fourth character is)
141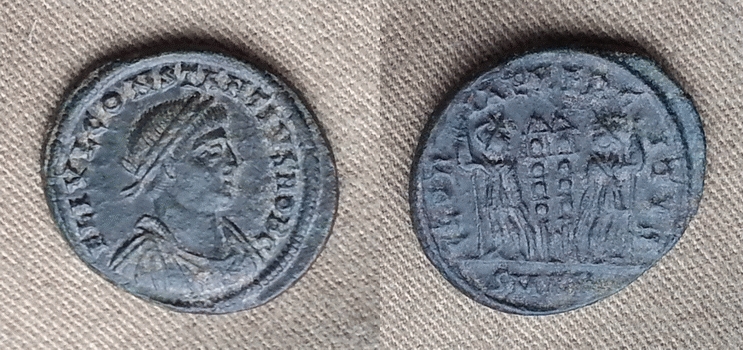 Constantius II. AE3. Heraclea. 330-348 AD
Obverse: FL IVL CONSTANTIVS NOB C, laureate, draped, cuirassed bust right
Reverse: GLOR-IA EXERC-ITVS, two soldiers holding spears and shields with
two standards between them, o on banners.
Mintmark: dot SMH[officina letter]
RIC VII Heraclea 118, rated R2
142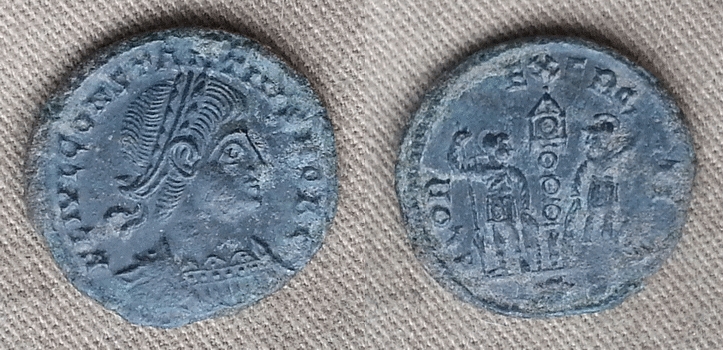 Constantius II, AE follis, Aquileia, 337-361 AD.
FL IVL CONSTANTIVS NOB C, laureate, draped, cuirassed bust right.
GLOR-IA EXERC-ITVS, two soldiers holding spears and shields with
one standard between them.
Mintmark: Not clear
RIC VII Aquileia 145, Rated R3
143

CONSTANTIUS II. 337-361 AD. AE Siscia mint. Struck 351-355
Obverse: D N CONSTAN-TIVS P F AVG, diademed, draped and cuirassed bust right
Reverse: FEL TEMP REPARATIO, soldier spearing falling enemy horseman who
wears conical hat; at right, shield on ground;
ASIS. RIC VIII 350
144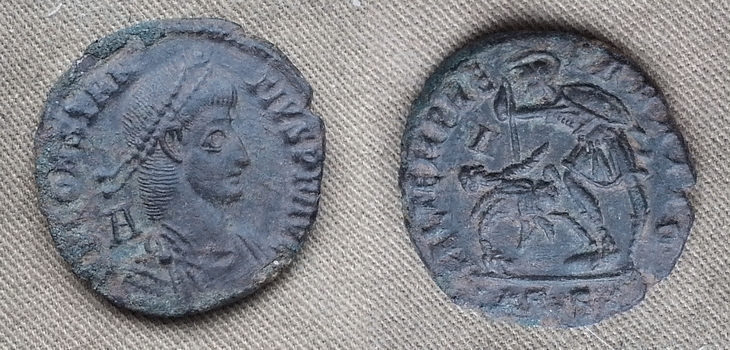 Constantius II. AE21, Siscia. 355-361
DN CONSTAN-TIVS PF AVG, pearl diademed, draped, cuirassed bust right, A behind bust.
FEL TEMP RE-PARATIO, soldier spearing fallen horseman who is bare-headed, reaching
backwards. I in left field. Mintmark: ASIS dot S dot
RIC VIII Siscia 346, rated C2
145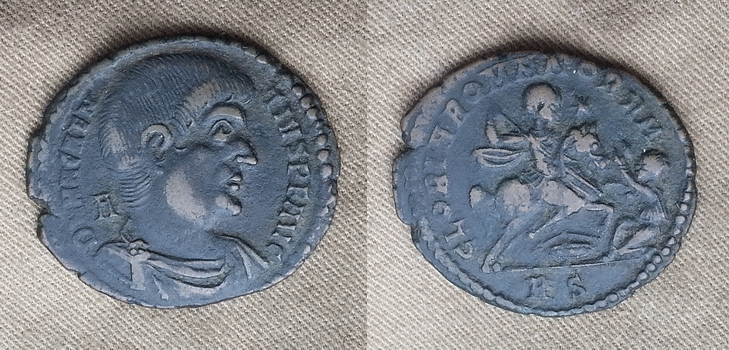 Magnentius, AE2, Rome. AD 340-350.
DN MAGNEN-TIVS PF AVG, bare-headed, draped, cuirassed bust right, A behind head.
GLORIA ROMANORVM, emperor on horseback galloping right, no shield, wielding
spear at a bare-headed enemy half-kneeling before the horse, broken spear and shield
beneath the horse. Star in upper right field. Mintmark RS
RIC VIII Rome 197; Cohen 20
146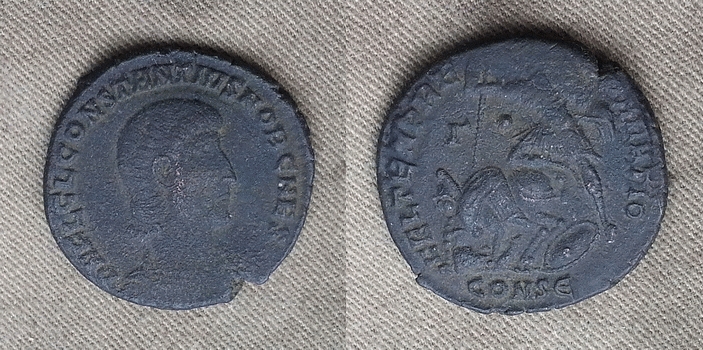 Constantius Gallus, AD 351-354, AE23, Constantinople.
Obv: DN FL CL CONSTANTIVS NOB CAES, bare-headed, draped, cuirassed bust right
Rev: FEL TEMP RE-PARATIO, soldier spearing fallen horseman who is wearing a Phrygian
helmet, no beard, clutching horse's neck.
Gamma dot in left and centre fields. Mintmark CONS epsilon
RIC VIII Constantinople 107, rated C3
147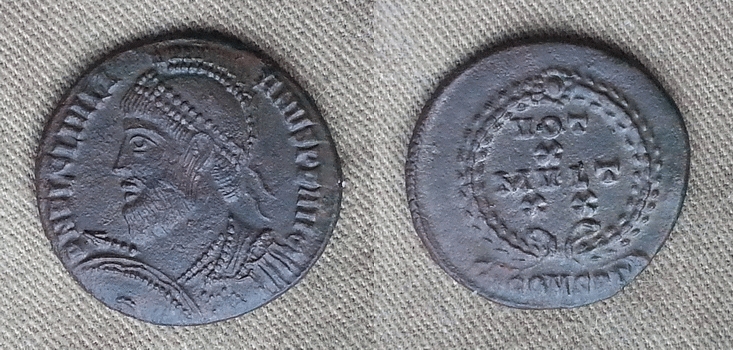 Julian II, 361-363 AE 20
Obverse: DN FL CL IVLIANVS P F AVG Helmeted and cuirassed bust of Julian to left,
holding spear and shield.
Reverse: VOT / X / MVLT / XX within wreath;
TCONST in exergue
148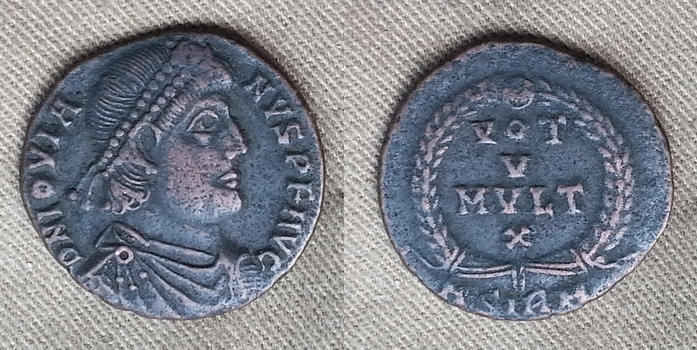 Jovian 363-364 AE
Obv: D N IOVIA-NVS P F AVG, pearl diademed, draped, cuirassed bust right
Rev: VOT V MVLT X - Within wreath on four lines.
Exe: BSIRM Sirmium mint: AD 363-364
RIC VIII, 118
149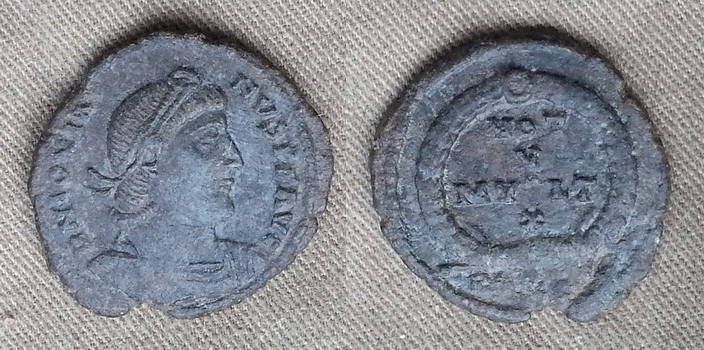 Jovian 363-364 AE4
DN IOVIAN-VS PF AVG, pearl diademed, draped, cuirassed bust right.
VOT V MVLT X within wreath.
Mintmark 'unknown'
150

Valentinian I, AE3, Siscia.
DN VALENTINI-ANVS PF AVG, pearl diademed, draped, cuirassed bust right.
GLORIA RO-MANORVM, Emperor in military dress, advancing right, head
left, holding labarum, dragging captive behind him.
Left field: S over dot; Right field: C over symbol 4.
Mintmark: BSISC zigzag.
RIC IX Siscia 14a, type xxxviii
151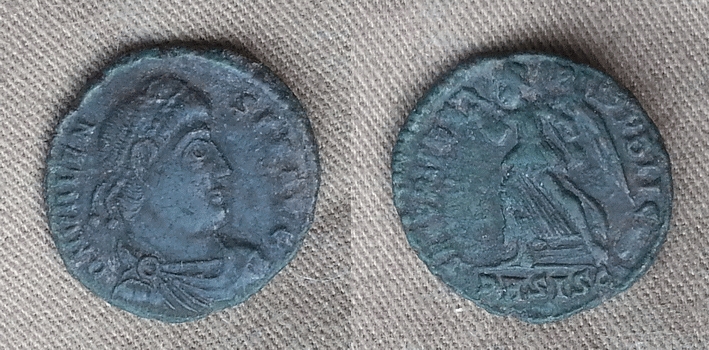 Valens AE3 Siscia 364-367
Obverse: DN VALENS PF AVG, pearl-diademed, draped and cuirassed bust right.
Reverse: SECVRITAS REIPVBLICAE, Victory walking left, holding wreath and palm
No fieldmarks. Mintmark DASISC
152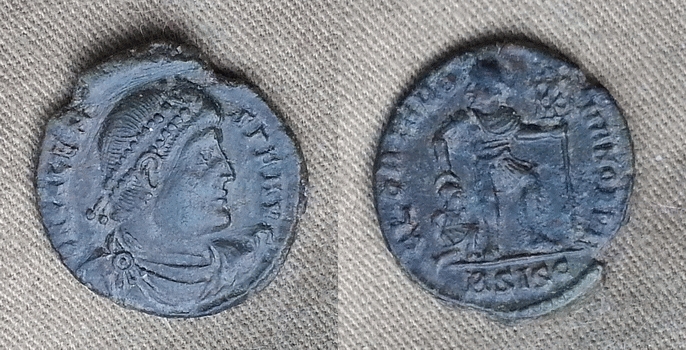 Valens AE3. 365
Obverse: DN VALENS PF AVG, diademed draped and cuirassed bust right
Reverse: GLORIA ROMANORVM, emperor walking right, head left, holding labarum
and grasping bound captive at the top of the head
Mintmark ?SISC
153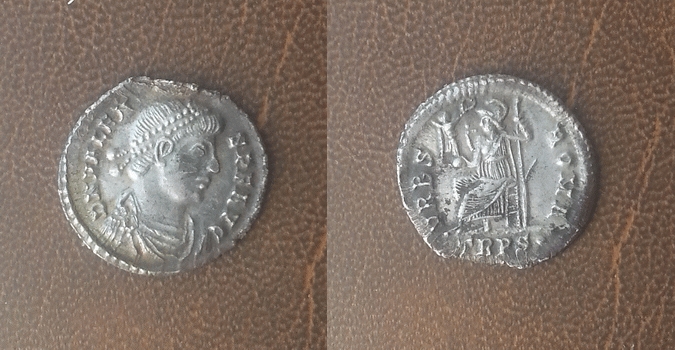 Valens, Siliqua, 364-378, AR Trier Mint,
D N VALENS P F AVG, pearl diademed, draped, cuirassed bust right.
VRBS ROMA Roma seated left, holding Victory and sceptre.
Mintmark TRPS.
RIC 46a; RSC 109
154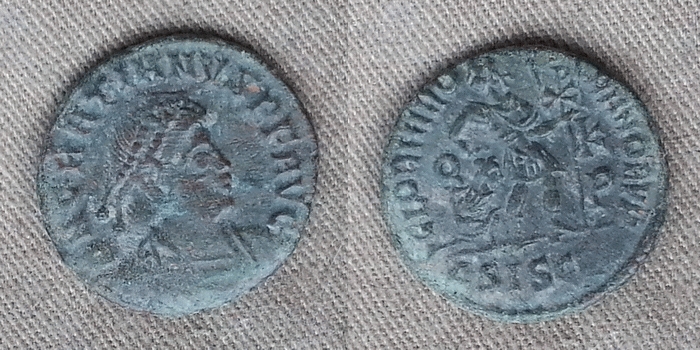 Gratian, 367-383, AE, Struck 367-375
Obverse: D N GRATIANVS P F AVG, pearl-diademed, draped and cuirassed bust right
Reverse: GLORIA RO-MANORVM, Gratian standing right, holding labarum inscribed
with Chi-rho and holding captive by hair;
Q left, K P right. Mintmark ?SISCR in exergue
155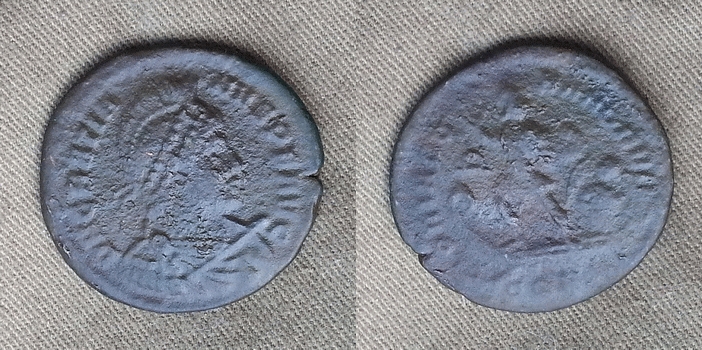 Gratian AE2. 378-383
DN GRATIA-NVS PF AVG, helmeted, pearl diademed, draped, cuirassed bust right
GLORIA RO-MANORVM, Emperor standing left, head right, on galley, raising right
hand, Victory seated at helm. Wreath in left field
156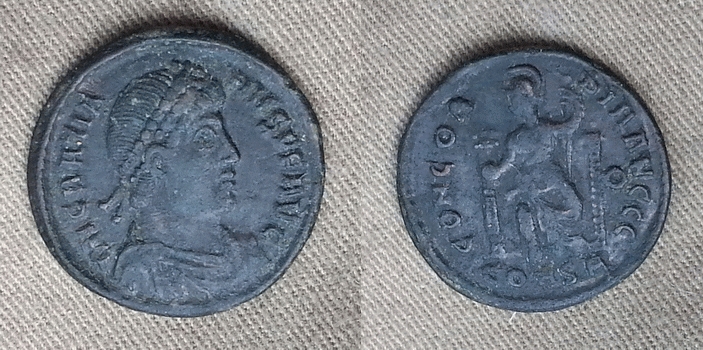 Gratian AE3. Constantinople, AD 378-383.
Obverse: DN GRATIA-NVS PF AVG, diademed, draped and cuirassed bust right
Reverse: CONCOR-DIA AVGGG, Constantinople seated facing, head left, holding
and spear, right leg bare. O in right field. Mintmark: CONS Gamma
RIC IX 56(a)
157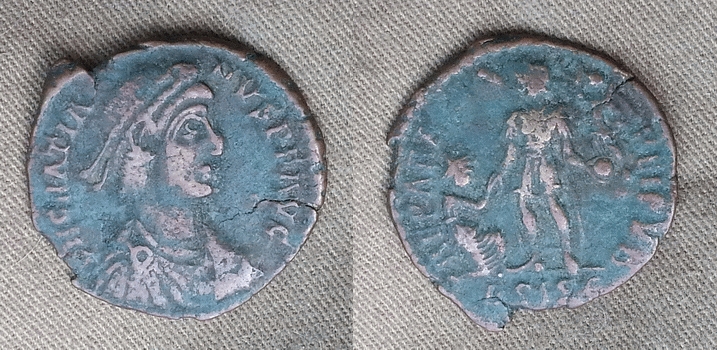 Gratian AD 367-383 AE2 Siscia mint: AD 379-383
Obverse: D N GRATIA-NVS P F AVG - Diademed bust right, draped and cuirassed.
Reverse: REPARATIO REIPVB - Gratian standing front, head left, offering right
hand to female on left to rise from kneeling position, in other hand he holds
Victory on a globe. ASISC in exergue [4th emission]
RIC IX, 26a, page 150 - Cohen 30
158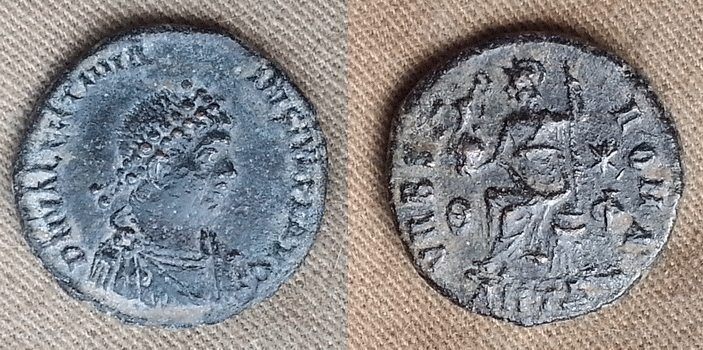 Valentinian II 375-392 AE-3 378-383
Obv: D. N. VALENTIANVS IVN. P. F. AVG Pearl diademed,draped and cuirassed bust, right
REV: Roma seated on cuirass, holding spear and Victory on globe; VRBS ROMA
Q in left field, * / F in right field
ANTB in exergue, Antioch mint
RIC, Vol. IX, #51
159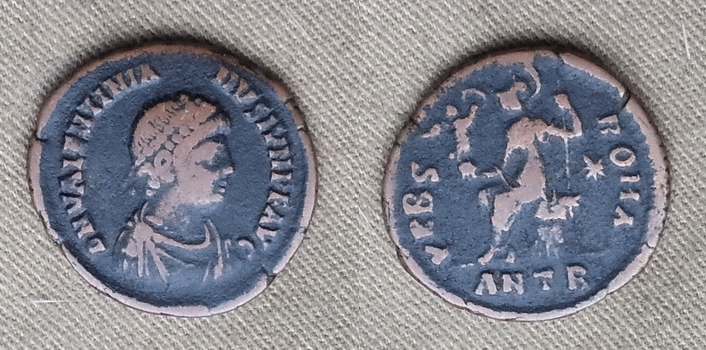 Valentinian II, AE3, August 9, 378-August 25, 383, Fourth Period, Antioch, Officina 2
Obverse: D N VALENTINIA_NVS IVN P F AVG Pearl-diademed, draped, cuirassed bust right
Reverse: VRBS-ROMA Roma, helmeted, seated left on cuirass, Victory on globe in right hand,
spear in left. Star in right field. ANTB in exergue
RIC IX, 51.1
160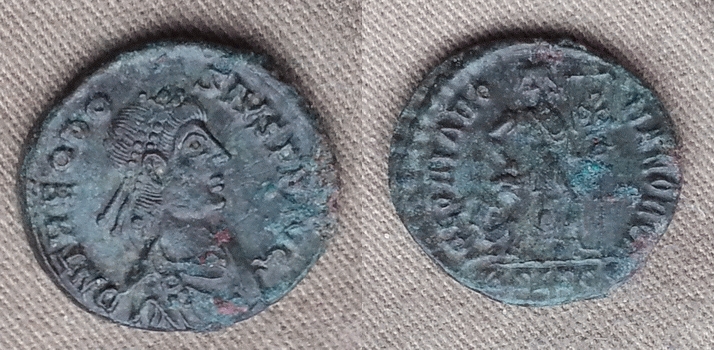 Theodosius I Ae3. AD 383-392
Obverse: D N THEODO-SIVS P F AVG, pearl diademed bust right, draped & cuirassed
Reverse: GLORIA RO MANORVM, Emperor standing right with head
turned left, holding hair of bound & kneeling captive
& labarum with Chi-Rho on it, (symbol) SISCdot in exergue
161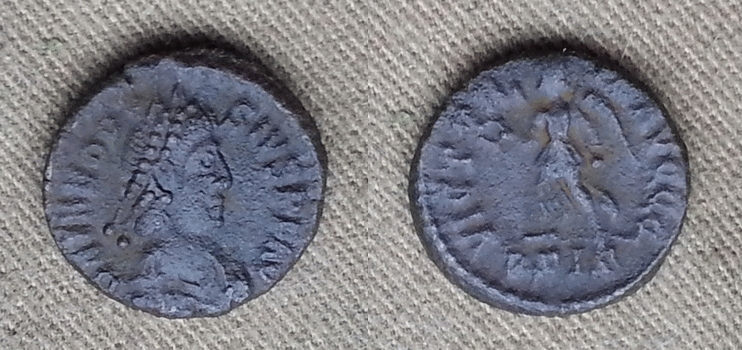 Theodosius, AE4, Siscia.
Obv: DN THEODO-SIVS PF AVG, pearl diademed, draped, cuirassed bust right.
Rev: VICTOR-IA AVGGG, Victory walking left, holding wreath
Mintmark: BSIS
Ref: RIC 39b, LRBC 1576
162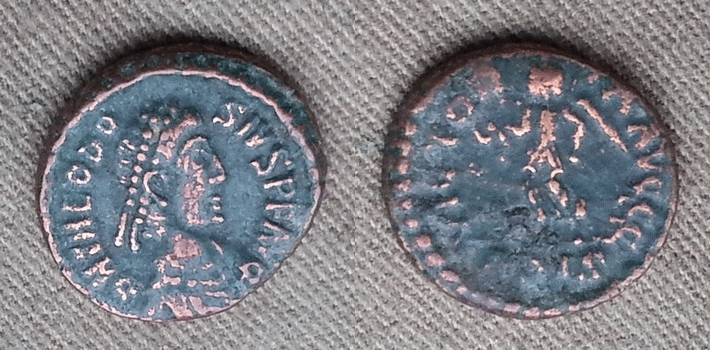 Theodosius, AE4, Siscia.
Obv: DN THEODO-SIVS PF AVG, pearl diademed, draped, cuirassed bust right.
Rev: VICTOR-IA AVGGG, Victory walking left, holding wreath
Mintmark: BSIS
Ref: RIC 39b, LRBC 1576
Rated scarce
163

Arcadius, Antioch, AE2. 383-392 AD. 21 mm; 5,15 g.
D N ARCADI-VS P F AVG, rosette diademed, draped, cuirassed bust right.
GLORIA ROMANORVM, emperor standing facing, head right, holding standard and globe.
Mintmark ANTB
Ref: RIC IX Antioch 68c (This coins is different to 68c a, b, and Delta
in that 'pearl-diademed' pearls are smaller in these three vars.)
164

Honorius AE4. Antioch mint, 406-408.
Obverse: DN HONORIVS P F AVG, pearl-diademed, draped bust right
Reverse: GLORIA ROMANORVM, three emperors standing side by side holding spears,
outermost ones rest hands on shields, the middle one holds a globe.
Mintmark ANTA. RIC X Antioch 153; Sear 21011
165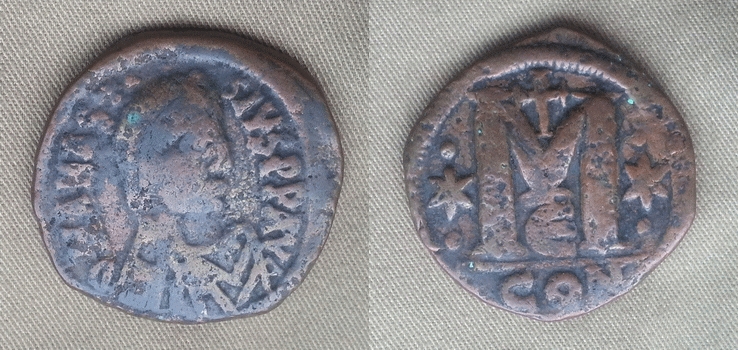 Anastasius I. 491-518 AE Follis, Constantinople mint. Struck 512-517
Obverse: DN ANASTASIVS P P AVG, pearl diademed, draped, cuirassed bust right
Reverse: Large M, star to left, dot above/below, cross above, star to right, dot above/below,
officina letter Epsilon below, mintmark CON
DOC I 23i; MIB I 27; SB 19 E
166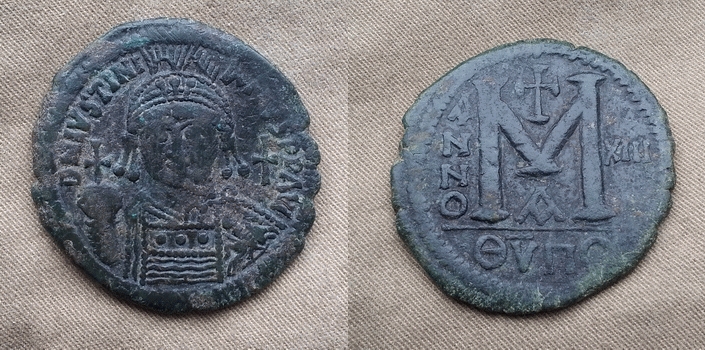 Justinian I 527-565, AE follis, Antioch mint (539/40)
DN IVSTINIANVS P P AVG, diademed, helmeted, and cuirassede facing bust, holding globus cruciger and shield,
Large M, cross above; date XIII, A/QUPO
DOC I 215a; MIB I 143; SB 218
167

Justin II & Sophia AE Half Follis. 565-578 AD. Nicomedia mint
Obverse: D N IVSTINVS P P AVG, Justin on left, Sophia on right, seated facing on double-throne, both nimbate,
Justin holding cross on globe, Sophia holding sceptre, can have cross between their heads, can have vine pattern below
Reverse: large M, ANNO to left, cross above, regnal year to right (IIII), officina letter below (B), mintmark NIKO
SB 369, MIB 46 a,b. 66 combinations known
168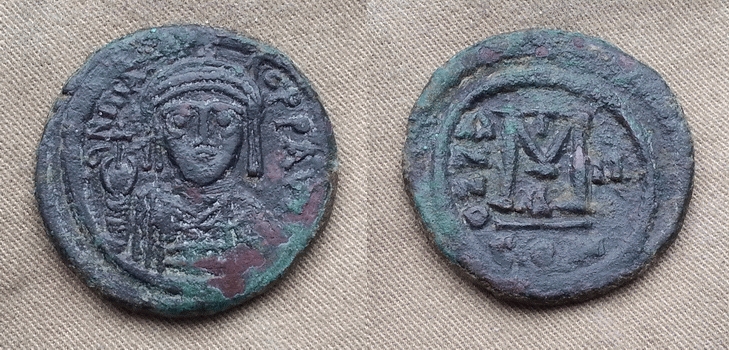 Maurice Tiberius, Constantinople, AE follis, 583 - 584
Obverse: DN MAVRICI PP AVI, crowned, drapged and cuirassed bust facing, holding cross on globe and shield
Reverse: Large M, ANNO to left, cross above, regnal year II to right, officina letter (can be A to Epsilon) below
169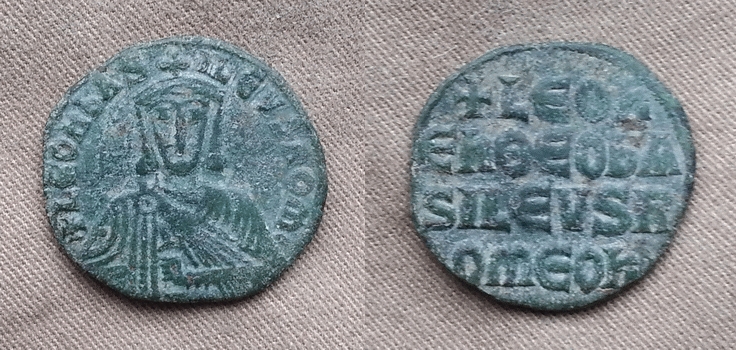 LEO VI, the Wise. 886-912 AD. Æ Follis, Constantinople mint
Obverse: LEOn bAS ILEUS ROM', facing bust, wearing crown and chlamys, holding akakia
Reverse: LEOn En QEO bA SILEVS R OMEOn in four lines
DOC III 8; SB 1729
170

Constantine IX, 1042 - 1055
Sears 1830
171

Manuel I, 1143 - 1180, Tetarteron mm, grms., St. george, Thessaloni,
Obverse: St. George facing
Reverse: Manuel facing

Return to top
Ancient Greek Coins
463-411 BC
172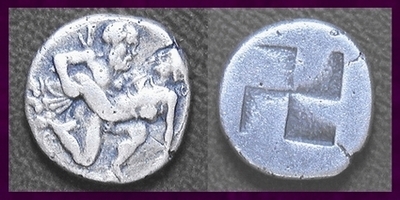 The Islands off of THRACE
Thasos. Circa 463-411 BC. AR Drachm (3.73 gm).
Obverse: Satyr carrying off protesting nymph
Reverse: Quadripartite incuse square.
SNG Copenhagen 1018.
400 - 300 BC
173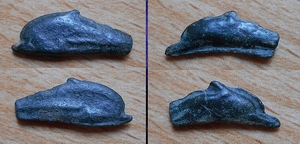 SARMATIA, Olbia. Circa 5th-4th Century BC. Æ Cast "Dolphin"
LINK to information regarding these proto-coins.
362 BC
174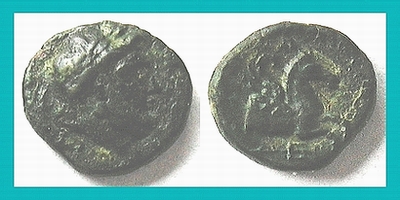 Mysia, Lampsados. Orontas, Satrap. Circa 362 BC, AE 12mm (1.9 grams).
Obverse: Laureate head of Zeus right
Reverse: Forepart of Pegasus right.
SNG Copenhagen 199
359-336 BC
175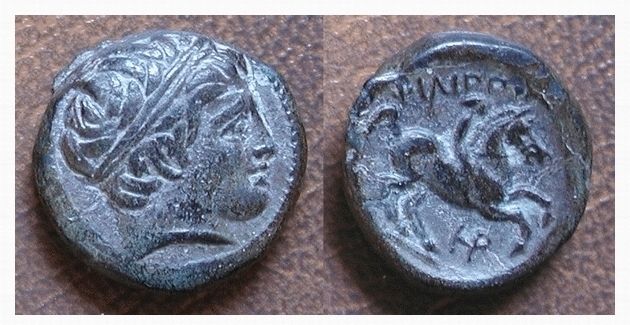 Philip II 359-336. B.C. AE 17 mm. 7.60 grams.
Obverse: Head of Apollo r., hair bound with tainia.
Reverse: Naked youth on horse prancing r.; beneath, trident and monogram.
Sear 6698 variety.
Alexander the Great
(20/21 July 356 BC – 10/11 June 323 BC)
176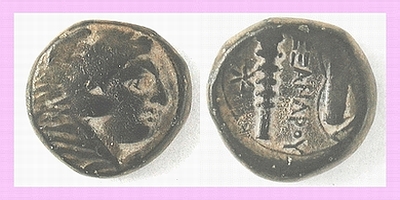 Alexander the Great (20/21 July 356 BC – 10/11 June 323 BC), AE16, (5.66 grams) Marium Mint, Cyprus
Obverse: Head of Alexander as Hercules right wearing lion skin.
Reverse: ALEXANDPOY Bow and case above, club and thunderbolt symbol below.
Price - cf. 3115 for a tetradrachm with similar obverse style and the same symbol.
A Catalog of Coins of Cyprus, pg. 39 #10
334 BC
177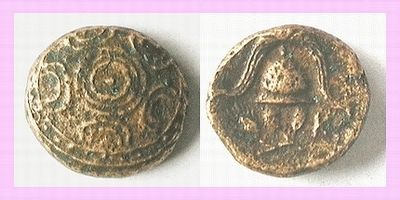 Alexander the Great, 336-323 B.C. AE Anonymous Half-Unit. 4.192 grams. Struck in Pella or Amphipolis 334 B.C.
Obverse: Macedonian shield; around, five double crescents with five pellets between each; in centre, thunderbolt.
Reverse: B - A on either side of Crested Macedonian helmet with cheek straps.
345-307 BC
178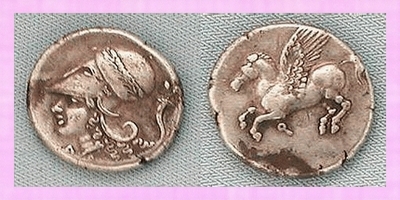 CorinthAR Stater (8.55 gm).
Obverse: Pegasos flying left
Reverse: Helmeted head of Athena left; AP below, cornucopiae behind.
Pegasi I pg. 263, 430; Ravel 1012.

320 BC
179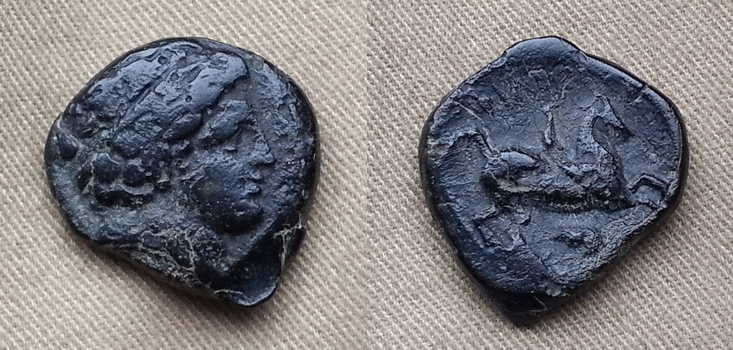 Alexander III, AE Unit. Miletus mint. ca 320 BC
Obverse: Diademed male head right
Reverse: BA?I?E?? (above) A?E?AN??OY (below) Horseman right.
Double-axe and HM monogram at top left, ME monogram beneath horse's forelegs
Price 2131.
310-304 BC
180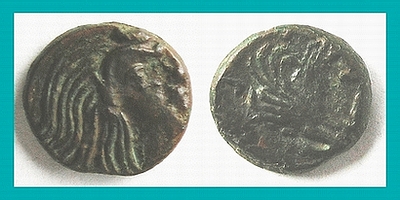 THRACE: PANTICAPAION 310-304 BC. Dichalk. Bronze 2.9 grams, 16.80 mm)
Obverse: Head of young Pan right
Reverse: P A N around forepart of Pegasos right.
323-281 BC
181

KINGDOM of THRACE
LYSIMACHOS, King 323-281 BC.
AE, Bronze 5.2 grams, 19.18 mm
Obverse: Male head to the right wearing Athenian helmet
Reverse: BASILEOS LYSIMAXOY above and beneath lion prancing right. Spearhead under lion.
316-297 BC
182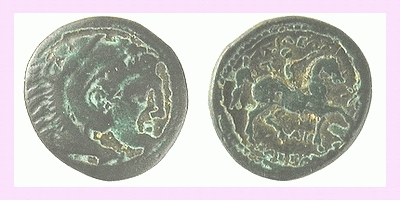 Macedon, Kings of. Kassander. 316-297 BC, AE 20mm (7.23 gm). Struck 306-297 BC
Obverse: Head of Herakles right, wearing lion's skin headdress
Reverse: BASILEWS KASSANDROU, horseman right, monograms to right and below
SNG Copenhagen 1150 var. (different monogram below).
Between 300 & 200 BC
183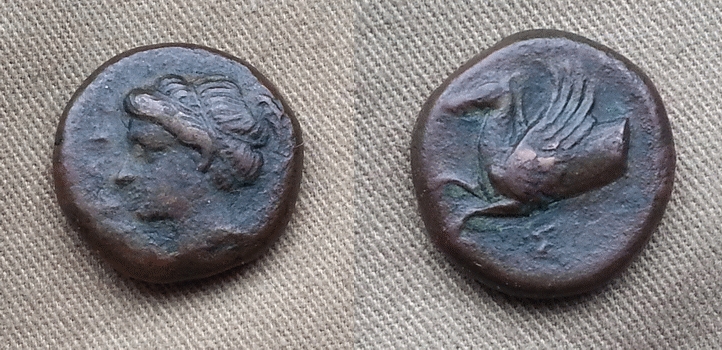 (Most likely of Mysia, Lampsakos origins, but not attributed yet.)
Mysia, Lampsakos. 4th-3rd Century BC
LAM, laureate female head right, in earring
YA, forepart of Pegasos right.
After 288 BC
184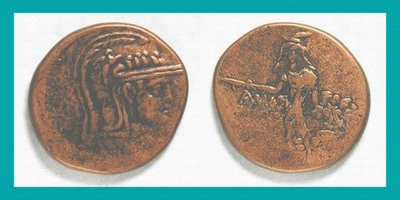 Asia Minor, Paphlagonia Amastris. After 288 BC, AE 29
Obverse: Helmeted head of Athena Parthenos facing right.
Reverse: Perseus standing holding harpa and head. Medusa decapitated on ground.
300 - 200 BC
185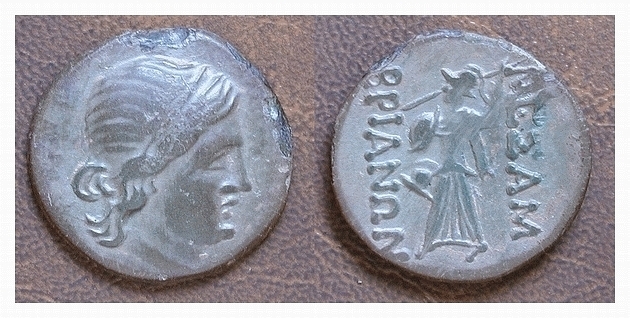 Messembria, Thrace, Æ24, (7.79g) c. 200 BC, Diademed female head right.
MESAM BPINWN Athena advancing left, holding shield and spear. S1677.
After 167-148 BC
186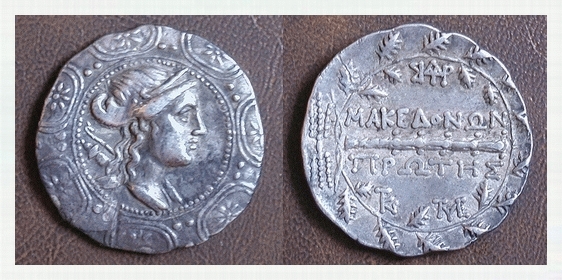 Roman Province of Macedonia AR Tetradrachm (Silver) (16.93 gm). First Minted, circa 167-148 BC. Amphipolis mint.
Obverse: Diademed & draped bust of Artemis right, bow & quiver over shoulder, in the center of a
Macedonian shield decorated with seven eight-pointed stars within double crescents, each separated by three pellets
Reverse: MAKEDONWN PRWTHS above and below club, AP monogram above, all within oak wreath, thunderbolt to left.
AMNG III 40, SNG Ash 3290.
(Macedonia was annexed to Roman territory and became (146 BC) the first Roman province. It never again had political importance in ancient times.
The Columbia Encyclopedia, Sixth Edition. Copyright 2006 Columbia University Press)
85-65 BC
187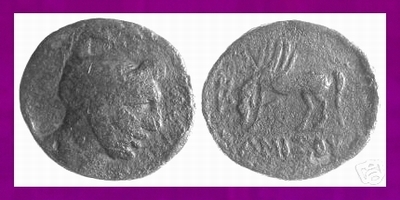 188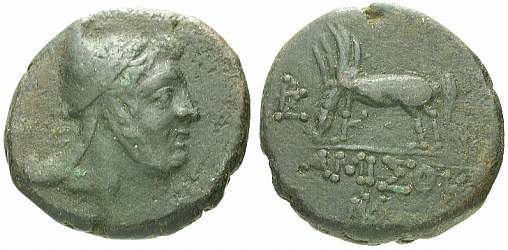 PONTUS, Amisos. Circa 85-65 BC. Æ 22mm (13.03 gm)
Obverse: Head of Perseus right, wearing helmet with griffin crest
Reverse: Pegasos grazing left monogram below.
27 BC to 14
189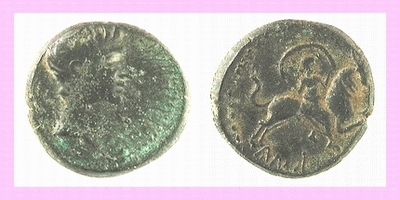 Divis Augustus AE22 of Amphipolis
Obverse: QE KAISAR SEBASTOS (counterclockwise), radiate head right
Reverse: AMFIPOLITWN, Artemis Tauropolis riding bull right, veil flowing above.
32-33 AD
190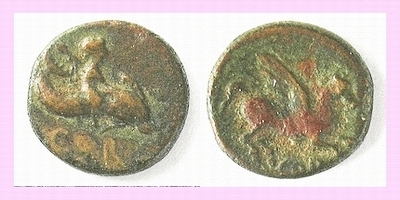 Corinth. 32-33 AD. Æ 17mm (4.21 gm)
Obverse: COR, Melikertes, with thyrsos over his shoulder, riding a dolphin right
Reverse: COR (weak), Pegasos flying right.
Amandry pg. 176, (Da/Ra1); RPC I 1162; SNG Copenhagen 259; BMC Corinth pg. 91, 681; Laffaille.
191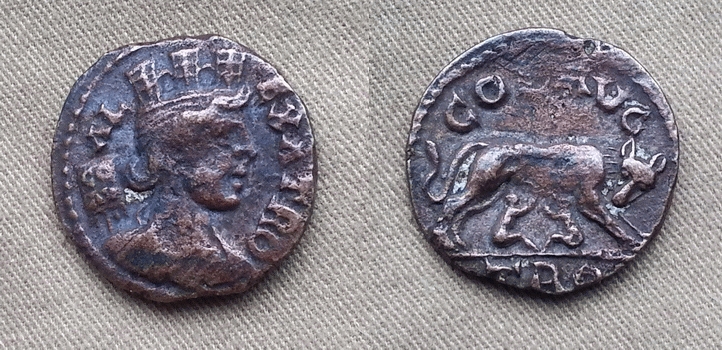 Troas, Alexandria Troas. Civic Issue. Circa 2nd-3rd Century AD
Obverse: Turreted and draped bust of Tyche right; vexillum behind
Reverse: Wolf and twins, COL AVG above, TRO in exergue.
Bellinger (Troy) pl. 25, A495; SNG Copenhagen 104.

Coins Dating from 1453 to 20th Century
(1453 - Fall of the Byzantine Empire)
Return to top





All rights reserved. All designs, images, intellectual properties, writings, drawings, paintings, sculptures, and comedy are the property of Anthony G. Ballatore if not attributed. This document is for viewing only. No reproduction rights are granted, licensed, implied, or sanctioned in any form or manner, and are hereby exclusively reserved for and by Anthony G. Ballatore. Just ask. What!?!